Japan Now Sells 4,184 Calorie Instant Noodles You "Definitely Should Not Eat Alone"
This giant Japanese yakisoba from Peyang is definitely for more than one person. Probably. Maybe.
This isn't the first time Peyang's instant noodle products have become a hot topic on the internet. Instant noodles are a big thing in Japan (there's even a
museum
), and it was only a matter of weeks ago that Japankuru editor Pin discussed her experiences with Peyang's
(in)famous apple pie yakisoba
. But Peyang is known for making instant noodles that are both unique ideas, but also uniquely appetizing, and so again, today, we are intrigued.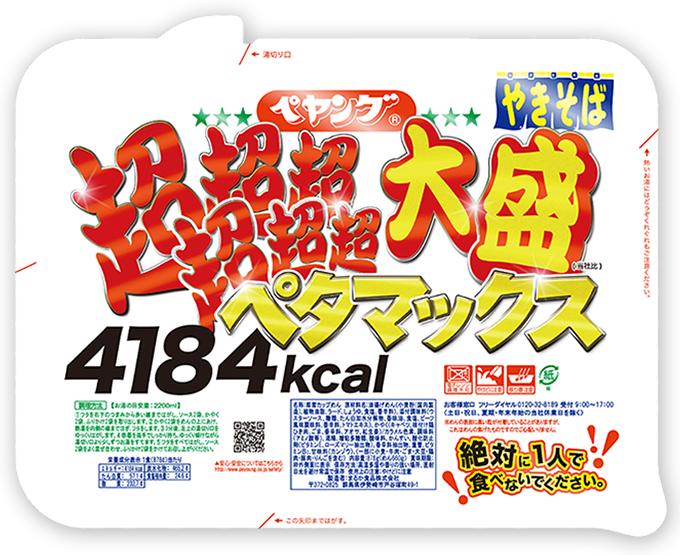 Image Source: Peyang
Peyang's new "Extra Extra Extra Extra Extra Extra Large Portion Yakisoba Petamax" (超超超超超超大盛焼きそばペタマックス, or Chochochochochocho Omori Yakisoba Petamax) lives up to the name, at approximately 7.3 times the size of Peyang's standard instant yakisoba. This enormous size means that, once the lid is lifted, the product includes not one but two packs each of vegetables/meat bits, sauce, and seasoning, and together with the noodles, it all adds up to a whopping total of 4,184 calories.

Which is why, on all of the packaging and in just about every instance of promotional copy, Peyang adds "definitely do not eat this alone" (絶対に1人で食べないでください). Considering an average adult eats somewhere around 2,000 calories a day, it makes sense that they absolutely are not recommending this as a weekday lunch or a snack after school.

And yet, somehow, I have no doubt that people will be attempting the deed anyway. Perhaps the next TikTok trend will be the Extra Extra Extra Extra Extra Extra Large Portion Yakisoba Petamax Challenge. (No but actually, don't try that. You might kill yourself.)

Image Source: Peyang
English speakers might notice that the official English-language packaging, on the other hand, almost seems to promise that you never have to eat this yakisoba alone. I expect somebody to come help me finish the noodles, Peyang, so I hope you're sending someone now.
Aside from the enormous portion size, there doesn't seem to be much else to set this yakisoba apart from all others. It would appear that Peyang is simply taking their standard yakisoba and scaling it up. But if you are hungry enough to eat two people's breakfast, lunch, and dinner, all at once, this new yakisoba might just be calling your name.
Sales start at convenience stores on Nov. 2, 2020, and at other retailers on Nov. 16th, for about 980 yen (plus tax).
For more updates and info from Japan, don't forget to follow Japankuru on
twitter
,
instagram
, and
facebook
!
Basic Info
Columnist

Shopping with Sophia

Between collaboration items and special-edition limited-time-only goods, Japan has some pretty interesting products, and if you're anything like me... well, you can't help but be interested!

SHOW COLUMN