At Japanese Starbucks, the Sakura Are Already in Full Bloom with New Cherry Blossom Products Galore
In Japan, springtime means pink products and cherry blossoms plastered on every surface, and Starbucks really knows how to do it right.
Japan is already getting prepared for cherry blossom season, hot off the heels of one extremely chocolatey
Valentine's Day
. But with
COVID-19
still hanging over us like a stormcloud on a sunny spring day, we're all looking for ways to bring a little cherry blossom cheer to everyday life without spending all day in a packed crowd of cherry blossom admirers. And of course, the ever-reliable Starbucks is at it again this year, with adorable pink drinks, tumblers, mugs, bags of coffee beans, and more―all for the spring sakura season!
First things first, let's take a look at the Starbucks drink offerings available this spring, inspired by the pretty pink petals of cherry blossoms (but not actually cherry or cherry blossom flavored, for the most part).

The Sakura Fuwari Berry Frappuccino (さくらふわりベリーフラペチーノ) is a frappuccino made with raspberry pannacotta and topped with whipped cream, vanilla and sakura cake crumbs, and tiny bits of freeze-dried strawberry. The Sakura Fuwari Berry Milk Latte (さくらふわりベリーミルクラテ), on the other hand, is essentially strawberry milk (milk + strawberry syrup) but topped with the same cake crumb and strawberry topping.

Hot drinks during sakura season will come in special paper cups decorated with cherry blossoms, too!
If you're such a Starbucks lover that you buy the coffee beans to brew at home, then don't miss this spring season blend. Inside the shiny pink cherry blossom bag, four kinds of beans are blended for a coffee with hints of cherry and a bit of spice (or so they say).
Aside from the drinks, what makes Starbucks so popular? Of course, Starbucks fans can't resist the huge variety of cups, bottles, tumblers, and other coffee-related accessories (plus all the random merchandise that has nothing to do with the coffee but is pretty cute anyway). The limited-edition seasonal designs that come out throughout the year are especially desirable, and Starbucks sure did not disappoint when it comes to spring 2021. There's not just one collection of sakura merchandise, but two!

The first series of products is being called "Sakura no Ibuki" (桜の息吹), which means "A Breath of Sakura," evoking the anticipation of the onset of spring. Anyone with a penchant for pastels will have a hard time keeping their hands off these cute items, with pink and blue designs that look like cherry blossoms in front of a pale blue sky. (Available at Japanese Starbucks locations from Feb. 17, 2021.)
The second collection of spring items is named "Hanabana ga Sakihokoru" (花々が咲き誇る), which means "Flowers in Full Bloom," and the items clearly reflect the theme, covered in colorful blooms of all kinds. (Available in Japanese Starbucks locations from Feb. 24, 2021.)
For the more particular Starbucks fans among us, there's also a special line of Starbucks Reserve Roastery products available this spring, with sleek light pink and dark blue designs and simple cherry-blossom patterns. Tokyo residents can head to the
Starbucks Reserve Roastery in Nakameguro
to get an eye full of these particular items―some of which are only available at that location.
Of course, if you value convenience over ultra-stylish Starbucks locations, you're in luck.
The Starbucks Sakura Vanilla Drink with Strawberry Jelly comes in a cute cup decorated with cherry blossoms and strawberries, and is available in convenience stores all over Japan as of February 9th. Easy peasy!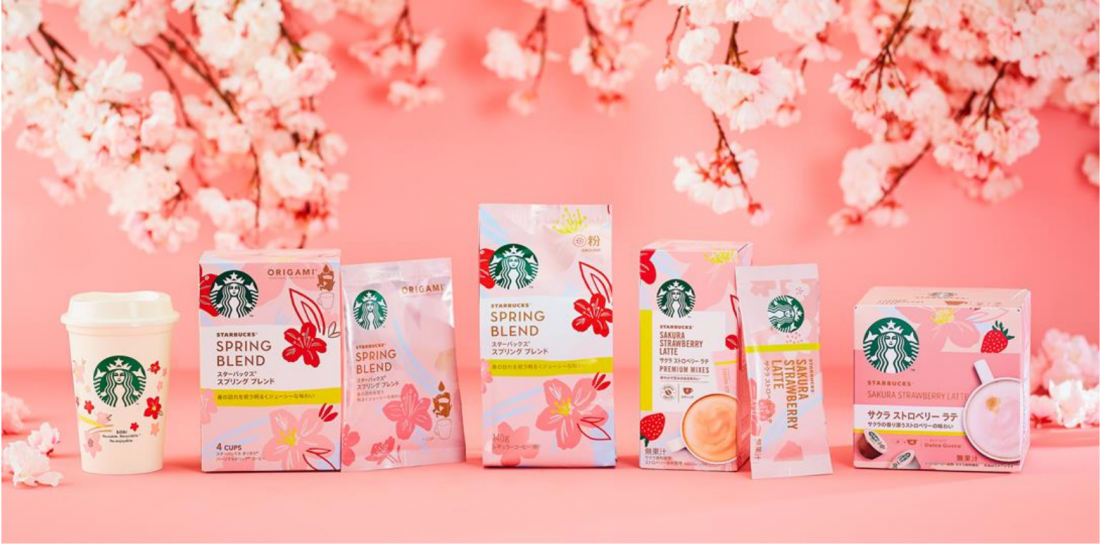 Image Source: Nestle
And for more springtime Starbucks you can enjoy at home, there's always Nestle's new line of Sakura Strawberry Latte products alongside another spring blend, with an aroma of "milk chocolate and sweet orange." The items are conveniently available at Japanese supermarkets, and they made their debut right after Valentine's Day, on Feb. 15th.
While 2021 is sure to offer another unusual cherry blossom season, what with a viral pandemic going on and surprise warm days in winter confusing the trees, we won't have to miss out on the fun entirely. Even if we can't join the packed crowds of Japan's most popular
hanami spots
, there's always the fun of a pink drink to take out and bring home, and an even cuter tumbler to sip out of! If you have any other fun ideas for how to celebrate the cherry blossom season this year, let us know on
twitter
,
instagram
, and
facebook
! And don't forget to follow us on social media and at Japankuru.com for more info and updates from Japan.
Basic Info
Columnist

pin

It's my fourth year living in Tokyo now, and I love wandering Japan looking for good food, lovely new places, and the best tourist attractions throughout the country.

SHOW COLUMN
Related Article