Japan's Island of Hydrangeas: The 5 Best Places to See The Flowers of Enoshima Island, Kamakura
This Japanese island is famous for its pastel blooms.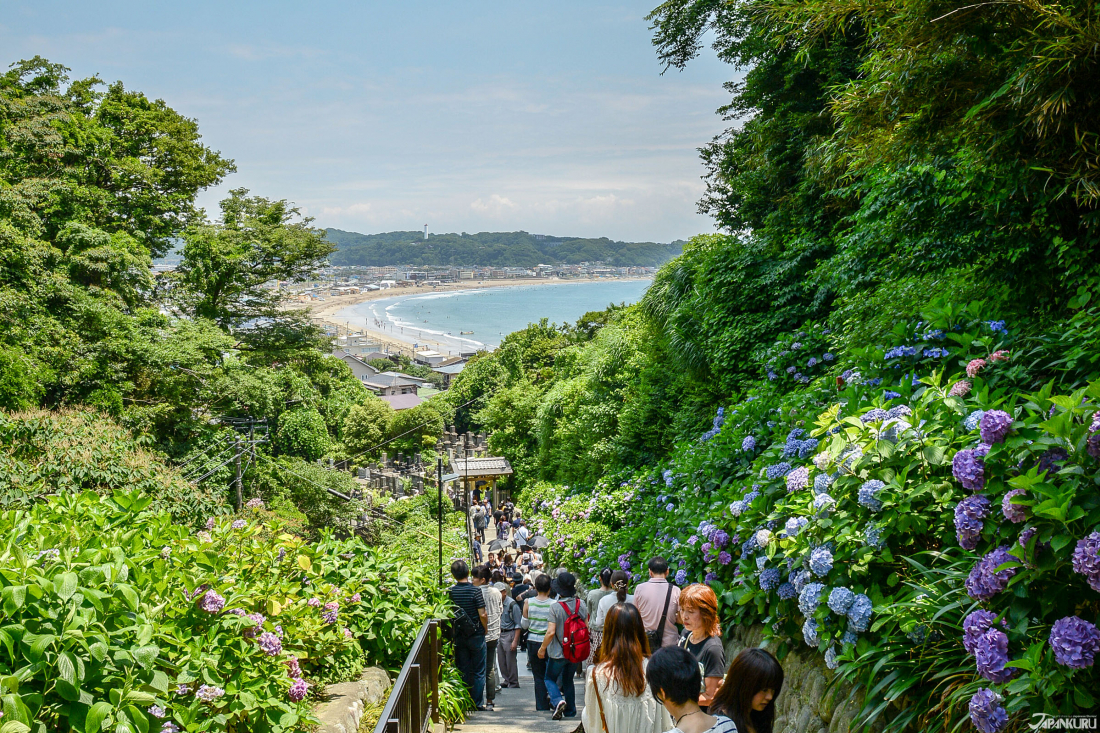 As summer draws near, you can feel the plants reaching towards the sun and putting out new leaves and blossoms. For lots of humans, the heat isn't always welcome, but you can tell the plants are ready for the warmth and sunlight! So we might as well appreciate all the hard work they're putting in.
In Japan, early summer means appreciating hydrangeas! The country is far more famous for its ubiquitous
cherry blossom gardens
, which blossom in spring and can be found drawing huge crowds
all over the country
. But their flower admiration doesn't end with those dainty pink petals; the beautiful hydrangea bushes also attract lots of attention.
In Japan, one of the best spots for hydrangeas is Kamakura's Enoshima Island! We've mentioned before that you can
charter a travel taxi
to get you to the best flower viewing spots, but no matter how you get there, it's worth a trip! Read on to learn more about places to check out on the island.
Hasedera Temple (長谷寺): A Rainbow of Hydrangeas on an Idyllic Hillside
Hasedera Temple is probably the most famous place for flower viewing in Kamakura. Almost 40 different kinds of hydrangea bushes crowd the hillside, surrounding a mountain trail that snakes up towards the temple. At full bloom, you'll see bursts of blue, purple, pink, and white petals all over the place. Because it's such a beautiful sight, however, it gets pretty busy every year! Visitors from Japan and abroad crowd the path, so to enter the area sometimes you'll need to get an entrance ticket. Instead of just having you wait in line, they'll let you enter in order of the number on your ticket. Check the
official website
before you head over, to see if there's any information on how busy it is!
Once you get to Hasedera Temple, by the way, it's also worth taking a look around!
There's plenty to see there
.
Hasedera Temple
3-11-2 Hase, Kamakura, Kanagawa
TEL: 0467-22-6300
Hours:
8:00-17:00 (March - September)
8:00-16:30 (October - February)
Admission is possible until 15 minutes before closing.
Admission Fee:
Adults: 400 yen / Children: 200 yen
Official Website
Meigetsuin Temple (明月院): A Path Surrounded by Cool Blue Blooms
This temple is so well-known for its flowers, it's been nicknamed Ajisai-dera (紫陽花寺) in Japanese, which literally means hydrangea temple! The famously blue flowers that make up the majority of the temple's hydrangea bushes are known as princess hydrangeas (hime-ajisai, 姫アジサイ), and the beautiful paths they create certainly do look fit for a princess.

Meigetsuin Temple also has an inner garden that is famous for its colorful autumn leaves, and beautiful irises. That garden is only open for a handful of weeks every year, so if you want to appreciate it at other times, you'll have to look through the temple's circular window. Peer through this full-moon-shaped pane of glass to appreciate all the temple has to offer.
Image Source: photo AC


Meigetsuin Temple
189 Yamanouchi, Kamakura, Kanagawa
Hours: 8:30-17:00
Admission Fee: 500 yen
Gokurakuji Station (極楽寺駅) & Jojuin Temple (極楽寺): Trains and Flowers
Gokurakuji Station is a stop on the Enoshima Electric Railway, and already attracts train fanatics all-year-round, being a very photogenic train station.
We've mentioned its popularity before
! The path along the tracks and to Jojuin Temple is especially popular during the summer, though, when you can take pictures of the train with colorful hydrangeas in the background. Unfortunately, due to infrastructure-related construction that has been going on in the area in recent years, a fair number of these hydrangea bushes have been moved to other locations, making it a slightly less impressive display. (The pictures below were taken pre-construction.) It's a fun intersection of the mechanical and natural, though, so we still recommend you head over if you're interested!
Jojuin Temple
1 Chome-1-5 Gokurakuji, Kamakura, Kanagawa
Hours: 8:00-17:00
Official Website
Engakuji Temple (円覚寺): Admire the Flowers without the Crush of People
The places we've mentioned so far are all great for seeing spectacular floral displays, and are certainly worth a trip for anyone willing to put up with the crowds of people. If you're not sure you want to deal with that level of crowding, though, you might be interested to hear about Engakuji Temple! This temple has beautiful hydrangeas, lovely old temple buildings and courtyards, and (importantly) plenty of space to move around in.
Engakuji Temple
409 Yamanouchi, Kamakura, Kanagawa
Hours: 8:30-16:30
Admission Fee:
Adults: 300 yen / Children: 100 yen
Official Website
Enoshima Island (江の島): Full of Secret Gardens
Enoshima Island has lots of famous locations for hydrangea viewing, but we recommend you also explore the area a little more to find the smaller, less well-known spots that make the island beautiful. Japanese cities are always full of little quirks of design, that let you stumble upon surprising, mysterious enclaves. Head towards the port, or to Enoshima Shrine, and keep an eye out for the hydrangeas that everyone else might be missing!
Enoshima Shrine
2-3-8 Enoshima, Fujisawa, Kanagawa
Hours: 8:30-17:00
Official Website
Kamakura is known for being such a scenic area that it's constantly used a backdrop for momentous scenes in Japanese dramas, or as a setting for movies. It's worth visiting year-round, but if you appreciate the beauty of bushes full of blooming flowers, then early summer is the time to go!
If you can't resist the pull of all kinds of flower-viewing in Japan, or you happen to be here in another season, you can always go see
cherry blossoms
or
curtains of hanging wisteria
.

Be sure to look out for more exciting articles every day at JAPANKURU! 🐶
Or add us on Instagram and Facebook to share your pictures of Japan. 💖🗾
Related Article