A Summertime Kyoto Dining Experience - Kawadoko Riverside Seats & Flowing Somen Noodles
From Taiwanese author Juntang Wang, a unique Kyoto kawadoko meal, perfect for hot summer months!
Sitting on the smooth tatami, listening to the river water rushing by as a cool breeze wafts through your hair, and digging into some traditional Japanese cuisineーthere are few dining experience that feel as authentically Kyoto as the tradition of kawadoko, or kawayuka (川床). Mainly found either next to the water of
Kamogawa River
, or directly over the rushing streams in Kibune, restaurants set up kawadoko seating along the river to savor the experience of the cool waters, and some spots even have seats where customers can stretch their toes right into the river. In the midst of Kyoto's humid summer weather, sitting down for a kawadoko meal is a uniquely refreshing way to escape the heat, and do so in the most impossibly elegant Kyoto way.
While the kawayuka (also called noryo-yuka, 納涼床) riverside terraces of Kamogawa River are conveniently located in downtown Kyoto, making them a popular destination, they're often 3 meters (10ft) or more away from the water. This time, I wanted to get much closer to the river itself, in Kibune.
The thing about kawadoko dining, however, is that it can get pretty pricy. The fancy seating generally comes with a high-class meal. So if that seems a little out of your budget, but the allure of kawadoko still pulls you in, then you can always look for kawadoko restaurants offering another Japanese summer specialty: chilled somen noodles. (Specifically "
flowing somen
"!) This gave me a chance to try out kawadoko for only about 1,000 yen!
Flowing somen (流しそうめん, nagashi somen) is often seen in anime, but the dish certainly isn't made up. The noodles are sent flowing down bamboo pipes filled with running water, which carries the somen to waiting diners. This method of eating somen is somewhat rare these days, but with the flowing water keeping the noodles fresh and chilled, it's worth visiting Kibune for the experience.
But! It turns out that actually eating flowing somen isn't as easy as I thought it would be, The water flows surprisingly quickly, and I kept missing the noodles as they shot right past me! Even when my hands moved fast enough, sometimes the slick noodles would slip right between my chopsticks, escaping my grasp.

So, if you're like me and your hand-eye coordination isn't great, it takes a bit of concentration to eat a full meal. If you don't act fast (quite literally), you're going to miss out on any somen at all! But when you do catch some, you'll be rewarded with deliciously cold noodles, perfect for the summer heat. Only available from June to September, don't miss it!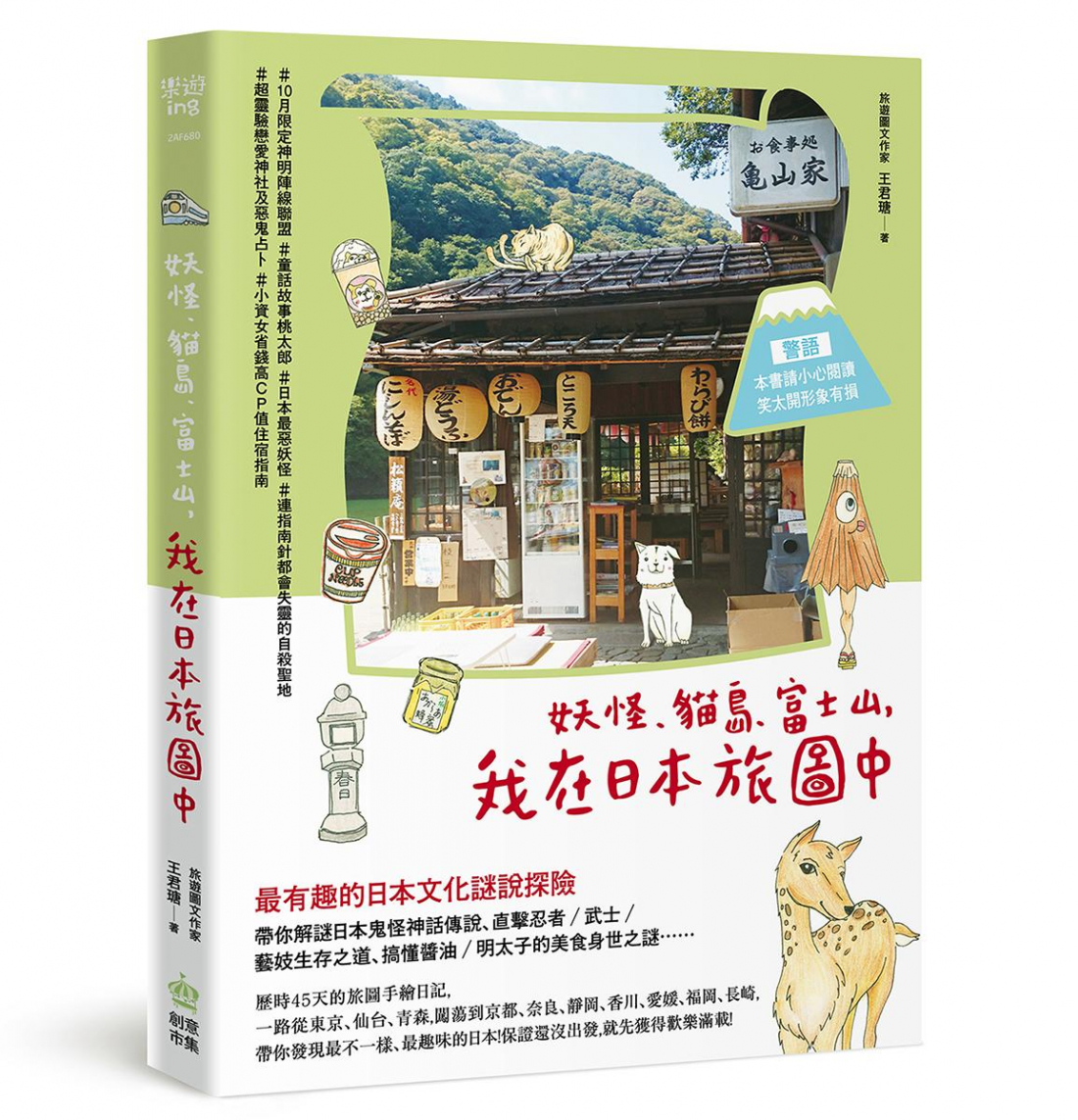 The contents of this article are from the book "Yokai, Cat Island, Mount Fuji, A Map of My Travels in Japan" (妖怪、貓島、富士山,我在日本旅圖中) by Juntang Wang, originally published in Chinese by Inno-Fair. The book isn't available in English, but if you enjoyed the illustrations, you'll find purchase links below. All of the details described above are from the author's travels in 2018, and may not be entirely up-to-date. Please check for the latest official information before making any plans!
Buy the book ▶
Books.com.tw
|
Eslite
|
Cite
|
Kingstone
Follow the author ▶
Travel B Class
Read more exerpts at Japankuru! ▶︎
Gotanjoji - The Cat Temple
|
Odate, Akita - Home to the Loyal Akita Inu
Basic Info
Columnist

Japankuru Book Club

All about the books we love, here at Japankuru!

SHOW COLUMN
Related Article