René Lalique Modernity and Elegance: Art Deco Glass from the Kitazawa Museum of Art Collection (Tokyo)
Feb 01, 2020 - Apr 07, 2020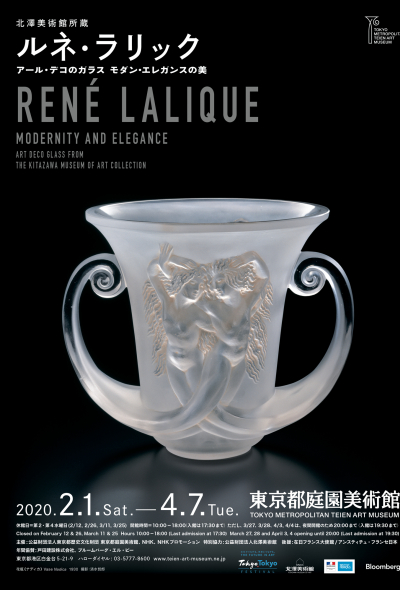 At the height of Art Deco's spread throughout the world, as the style influenced architecture and design, and at a time when materials like glass became easy to process, French artist René Lalique (1860-1945) worked to create elegant pieces made of this fragile medium. Lalique had begun experimenting with glass early on, during his days designing and making Art Nouveau jewelry, and he quickly realized the material's possibilities. The artist saw that glass could be used for more than just replacing gemstones, and developed original techniques for molding glass, becoming something of a glass art expert.
René Lalique created a series of works that showed off the artistic elegance glass could be used to create, and then combined it with a distinct practical utility. Any lovers of Art Deco, and the unique art of the early 20th century, will want to see the incredible pieces Lalique was able to create with this unique medium.
This exhibition in the Former Prince Asaka Residence, now the Tokyo Metropolitan Teien Art Museum, contains 220 examples of the artist's work, carefully selected from the world-renowned Kitazawa Museum of Art's Lalique collection. In addition, you'll find a special exhibit of works from the former Asaka family collection, and vases brought back from Paris by Japanese royalty.
この投稿をInstagramで見る

【予告|ルネ・ラリック展】 展覧会開始まであと1日。本展はいよいよ明日(2/1)からの開催です。 ガラスを素材としたエレガントな作品の数々で、アール・デコの時代を切り開いたルネ・ラリック。ラリックと、アール・デコの館の饗宴をどうぞお楽しみください。 #ルネラリック展 #東京都庭園美術館 #東京 #ラリック #旧朝香宮邸 #tokyometropolitanteienartmuseum #teienartmuseum #tokyo #renelalique #lalique #lalique2020tokyo #lartdevivre #TokyoTokyoFESTIVAL