Taking a Self Guided Tour Around Kyushu with Drive Japan!
Travelling has been made easy with the help Drive Japan! We had them plan out a 3 day trip around Kyushu for us!!
When thinking about the islands of Japan, you can think of them of their own little countries. Each island of Japan; Hokkaido, Honshu, Kyushu, and Shikoku, each are rather different, with different seasons and climates!

Kyushu is a wonderful place, found in the south of Japan, it is home to a warm climate, amazing hot springs, rich natural resources, and abundance of history!

It has a great infrastructure for locals, but for those that travel to Kyushu, many could benefit also from taking a self guided tour using a rental car! That's where Drive Japan comes in, they offer two things to people that visit their site:
■Travel Route Search Engine
A search engine able to help you find the best route depending on your schedule and destination.

■Daily Drive Maps
A User that has booked via the site can receive a detailed drive map that matches their itinerary. Quick and easy to use.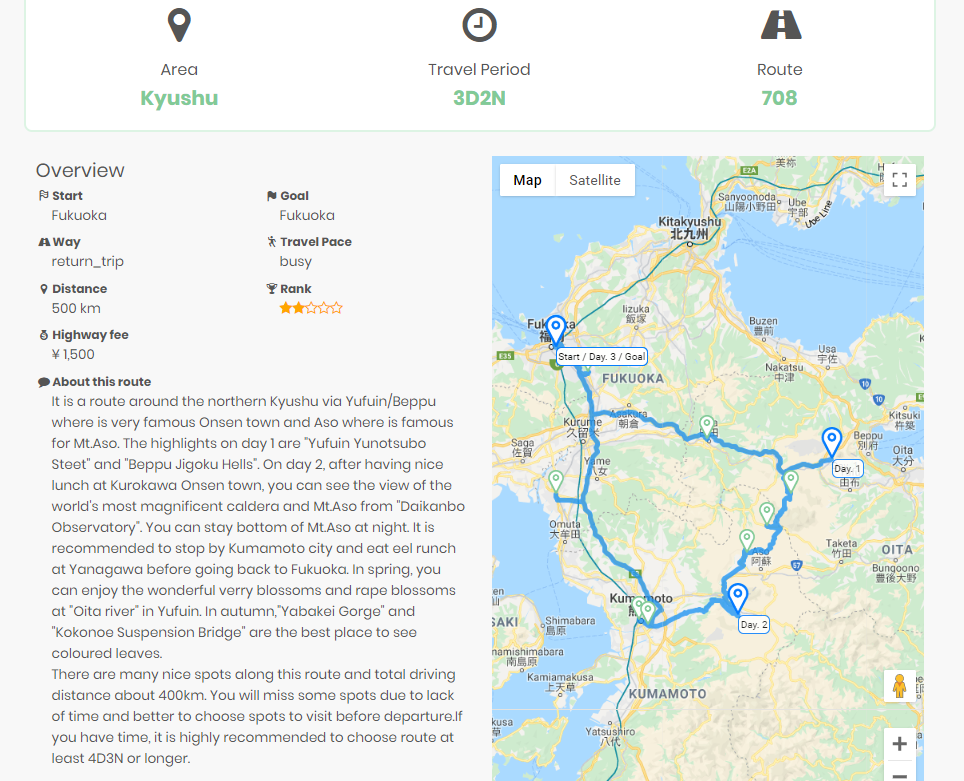 For our time in Kyushu, we chose a simple but packed 3D2N trip, that creates a circuit to 3 main areas, with stops along the way. As you can that it has a rank of 2 stars, which is based on how busy you might get. Also we had to pay a 1,500 yen Highway fee, because highways aren't free to use in Japan! This route will take you from Fukuoka, to Beppu, to Kumamoto and then back to Fukuoka and you'll even get the chance to stay at Mt. Aso if you so wish!

So let us take you on our adventure!
Day 1:The Start of our Journey!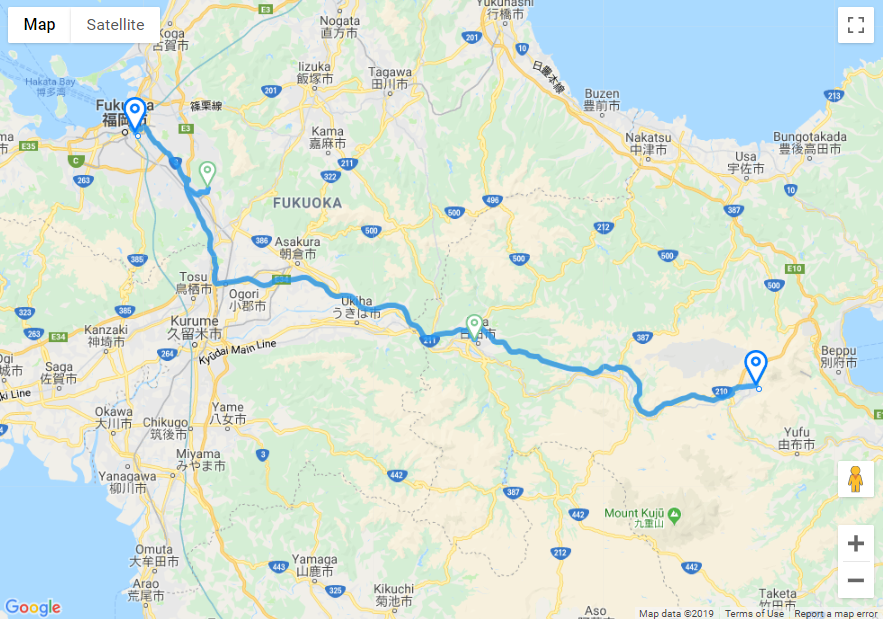 The 1st day we headed from Fukuoka to Yufuin/Beppu a nationally famous hot spring resort!
It's a long trip but we also had a lot to see in between! We set off quite early as most of the shops and sightseeing spots close about 17-18 o'clock in Yufuin and Beppu. So we also recommended to start 8:00~9:00 if you don't like rushing around.

The first destination we saw was "Dazaifu Tenmangu Shrine(太宰府天満宮)" the most famous of shrines in Kyushu. You can enjoy many shops that have local products and food. If you like sweets and fruit, it is good idea to go fruit picking after visiting the shrine. "Hita old town(日田の古い町並み)" is a great place to have lunch. The daily driving map that we had took us to a eel restaurant, but you can also have "Hita Yakisoba" at a local grilled noodle restaurant.

Then we set off to Yuhuin. The main street "Yufuin Yunotsubo street(由布院湯の坪街道)" is filled with charming shops selling local products and food too and we enjoyed walking to a small beautiful "Lake Kinrinko(金鱗湖)".

From Yufuin to Beppu it takes about 40 minutes. A Highlight in Beppu is "Beppu Jigoku Hells(別府地獄めぐり)" and it is highly recommended but is closed at 17:00 so you might need to rush.

Onsen was wating for us to heal our fatigue of the busy day.
One thing that Drive Japan told us was that they can recommend you different places during the cherry blossom period in spring and autumn coloured leaves period. It would be a great time for you to travel during this time.
DAY 2: A Packed Day Of Fun!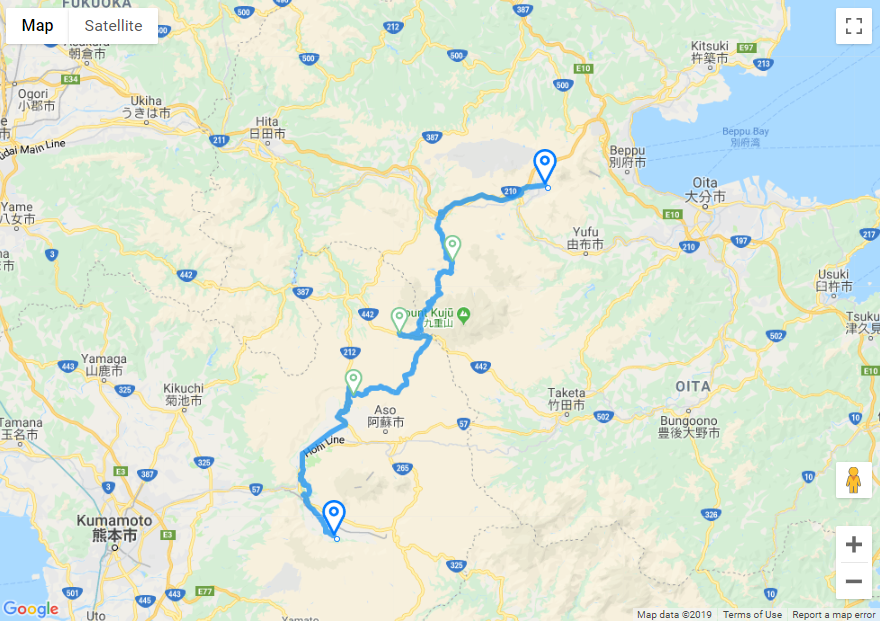 Day 2 will take you from Yufuin/Beppu to Aso.
Again, this trip has a lot packed in so we headed out at about 8am to try and get everything included!
The first destination was "Kokonoe Suspension Bridge(九重夢大吊橋)". We were told that you can see wonderful coloured leaves in the Autumn. We then stopped at a farm which provided fresh yogurt drinks as well as beautiful wetlands which has 1 - 2.5km walking trails.

"Kurokawa Onsen town(黒川温泉)" is where we stopped off for lunch. Our daily driving map gave us a hint at what the nice recommended restaurants are there.

The biggest highlight on this day though, was driving along the Aso Sky Line from "Skyline observatory" to "Daikanbo Observatory(大観峰)". Driving on outer rim of the Aso caldera was a once in a lifetime unforgettable experience. We finally headed to to "Kusasenri(草千里)". which had breathtaking panoramic grass plains.

The Aso area is where we stayed, out in nature. We reached the designated stopping point at around 6pm.
Day 3: The End of A Fun-filled Trip!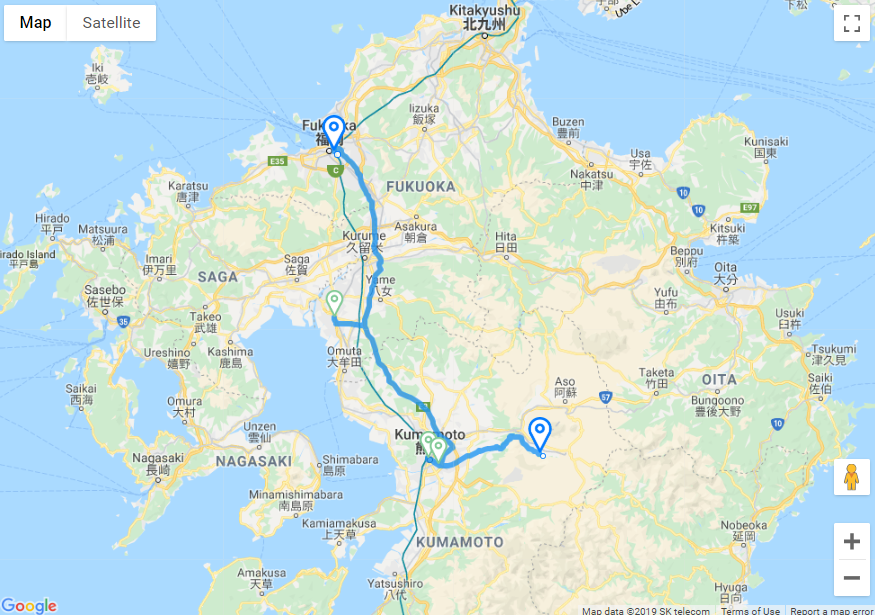 Our last day we would be going back to Fukuoka from Aso. With a whopping 200km drive and a few spots in between we headed out super early to fit them in.
We headed out to Kumamoto City first!

The symbol of the city "Kumamoto castle(熊本城)" is under reconstruction from the damage of the earthquakes that hit a few years ago. We didn't you might fit in a visit to the wonderful Japanese garden "Suizenji Jojuen Garden(水前寺成趣園)". After this our next destination was Yanagawa town. "Ohana Shotoen(御花松涛園)" is an old house and amazing Japanese garden which was built about 300 years ago.

We tried out the recommended lunch on this day which was Kumamoto Ramen, but you might have traditional grilled eel or cheap but good local Udon noodles.

"Yame Chuo Tea Gaden(八女中央大茶園)" was highly recommended to visit, so we headed there. It is a secret spot which is only reachable by car and we were amazed due to panoramic scenery covered with green tea trees.

Traffic can get heavy in Fukuoka and it takes time to fill up on fuel and return your car too. If you're like us and aren't staying in Fukuoka, it might be best to head out earlier so that you can return the car and get your flight out.
Drive Japan: Looking To Bring Hokkaido Driving Routes To You!
In addition to providing services in Kyushu and Okinawa, Drive Japan is currently planning to launch a self-driving route in Hokkaido!
Hokkaido, which also has a wealth of natural resources and an abundance of places to visit, is a perfect choice for self-driving travel!
If you are planning a self-driving tour of Hokkaido or are interested in Drive Japan's plans,
Click on the link for details:
https://en.japankurufunding.com/projects/drive-japan/
Basic Info
Columnist

Japankuru Funding

Hey everyone! We hope that we can help you keep up to date with all the projects and things we have going on over at Japankuru Funding! We hope that you find the projects on the site as interesting as we do!

SHOW COLUMN
Related Article