A JR EAST Train Trip to Tsubame-Sanjo ④: Spring Cherry Blossoms and Seasonal Sightseeing
Join Japankuru on a trip to this lesser-known JR EAST shinkansen station, where springtime brings warm weather and pink cherry blossoms. Find out more about the best local spots recommended by the JR EAST staff themselves!
Tsubame & Sanjo: Where Spring Bursts Into Bloom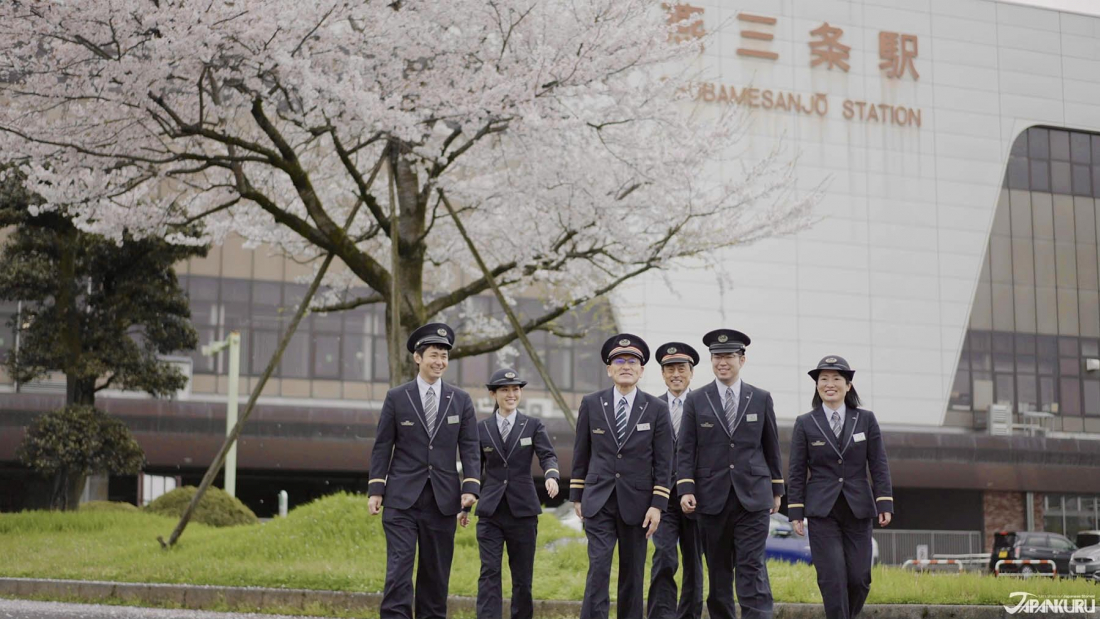 Is the fresh spring air of Japan's countryside calling your name? Getting ready to check train schedules and
cherry blossom forecasts
? The area around Tsubamesanjō Station is full of
artisan factories
and awash with
ancient legend
, but these two cities are also blessed with four lovely seasons, from snowy winters to verdant green summers. So when spring rolls around, there's no better place to enjoy the beauty of Japan's cherry blossoms and feel the cool breeze coming off the Sea of Japan!
Getting to Tsubamesanjō Station
As a stop on the JR EAST Jōetsu Shinkansen (bullet train), access to Tsubamesanjō Station is extremely convenient for anyone starting in or around Tokyo! Tsubamesanjō Station is one of a dozen along the train line, which starts from Tokyo Station and stops at Ueno before heading into Niigata Prefecture, and finally arriving in the Tsubame-Sanjo area!
The trip is a little under two hours, which makes this an ideal destination for a weekend away, or a little excursion using a rail pass. The "
JR EAST PASS (Nagano, Niigata area)
" is especially convenient when heading to Tsubame-Sanjo: for 18,000 yen (tax included), the pass lets you ride all the JR EAST trains you want for five days, including shinkansen and limited express trains, and even some JR buses. From Tokyo to Tsubamesanjō Station, tickets with reserved seats normally cost a little under 19,000 yen round trip, but using the pass means you can freely travel all over Niigata and Nagano during your trip. You don't have to be a short-term traveler in Japan, either. Foreign residents can use the pass too!
JR East
"About JR EAST"
Official Website (en)
"Seat Reservation Service Online for Shinkansen and Limited Express Train in East Japan Region"
JR EAST Train Reservations (en)
Okozu Bunsui Sakura Park: Cherry Blossom Heaven Along the River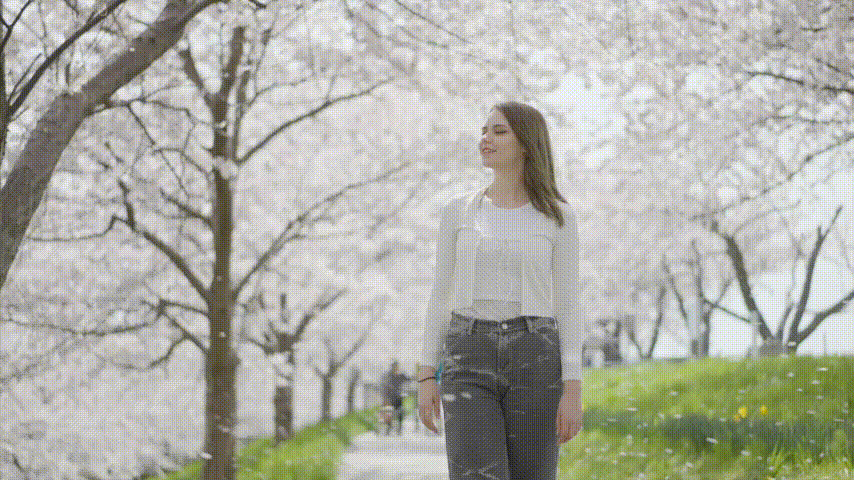 The two-city area of Tsubame-Sanjo hasn't yet built a reputation for cherry blossoms on a national level, but it's actually home to a cherry blossom viewing spot ranked in the country's top 100, making it a favorite for cherry blossom fans in the know! This hot 100 cherry blossom spot is Okozu Bunsui Sakura Park, known for its path lined with seemingly unending rows of cherry trees. The trees are spaced evenly along the road, so they create walls of pink petals, and even join overhead to create heavenly tunnels. Even during the peak of cherry blossom season, when the flowers are all abloom and a strong breeze will send petals fluttering past, the park tends to be uncrowded, and you'll mostly see locals who come to enjoy the weather or walk their dogs.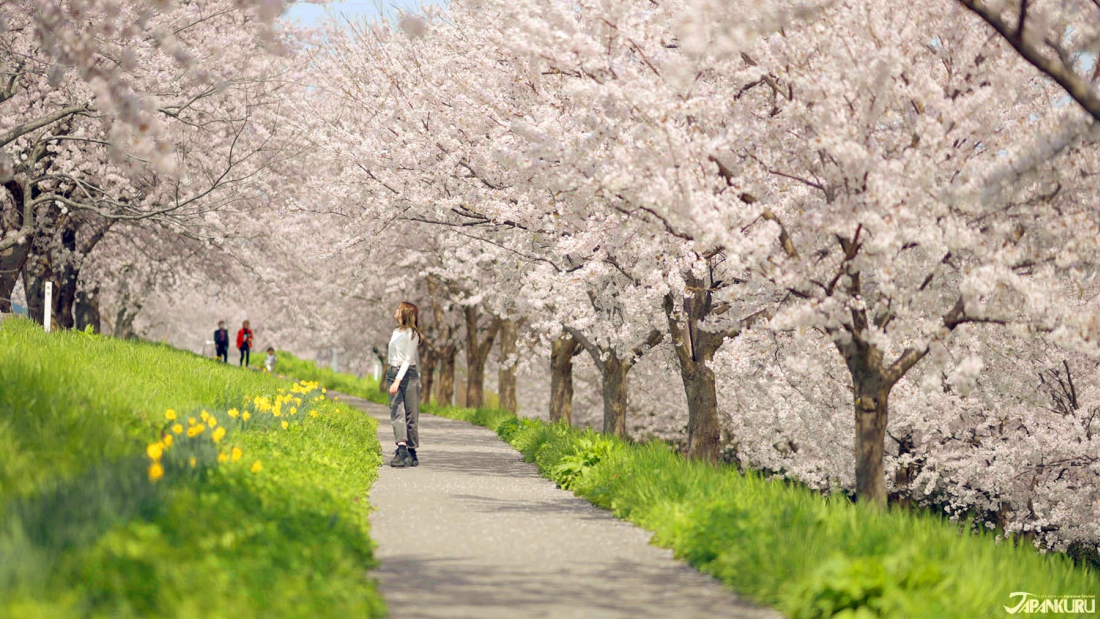 The park stretches over 10km along a road running parallel to the river, lined with more than 2,600 Yoshino cherry trees. Not only is it a nice place for a stroll or a hanami picnic, but it's also a great spot for a leisurely drive with the windows down, with flower petals floating in on the breeze.
Okozu Bunsui Sakura Park (大河津分水 桜並木)
4026 Gosengoku, Tsubame, Niigata
Bunsui Station: Stationside Cherry Blossoms, Noon and Night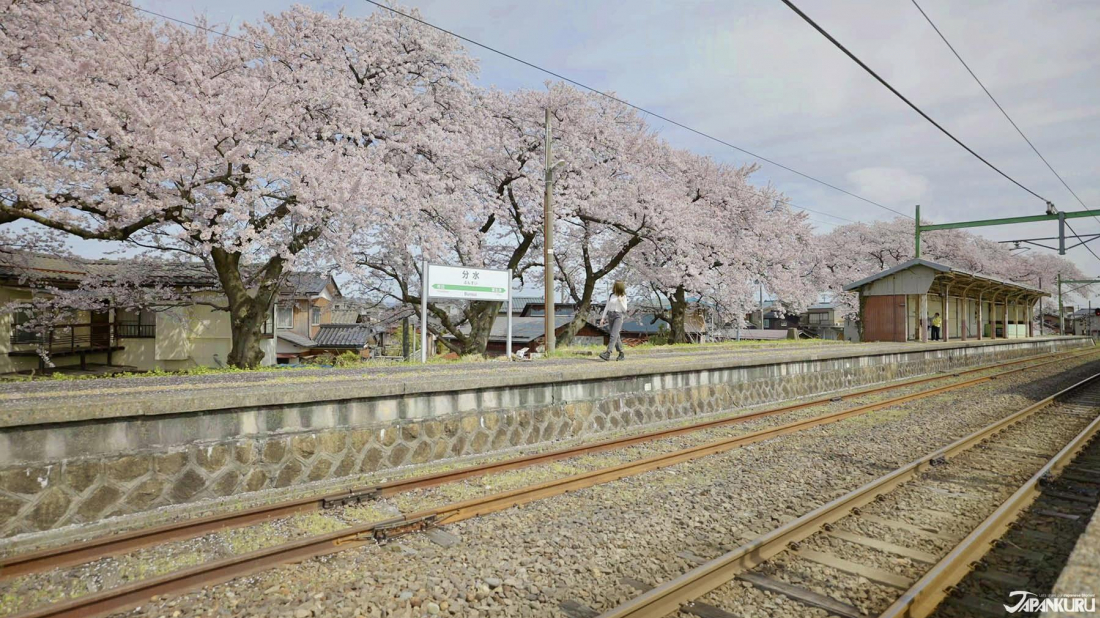 Another major cherry blossom viewing destination in Tsubame is especially popular with railway lovers and fans of Japan Railways, because it's found at Bunsui Station! One of the platforms at this little local station is lined with tall cherry trees, and more cherry trees surround the train tracks beyond the platform, so the flowers are ready to greet each passing train as it comes in or out of the station during the spring.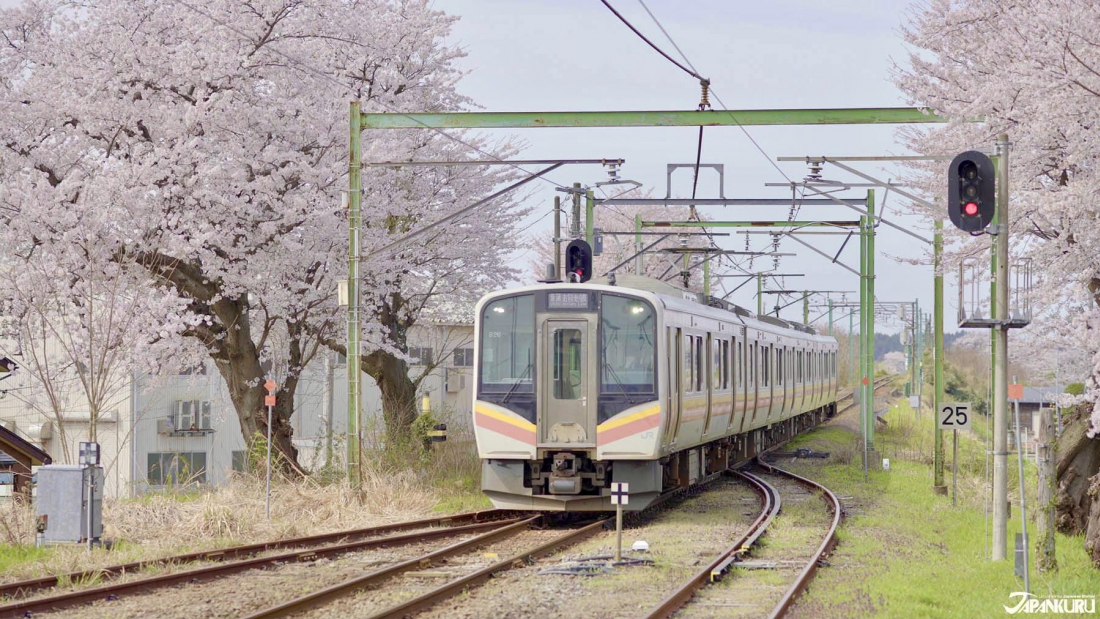 When the trees are in full bloom, train fanatics and photography lovers alike will line up along the platform, aiming for the perfect photo spot and then waiting in anticipation until the next train arrives, so they can take pictures of the train cars in front of a pretty pink backdrop.
Bunsui Station (分水駅)
1-1 Bunsuisakuramachi, Tsubame, Niigata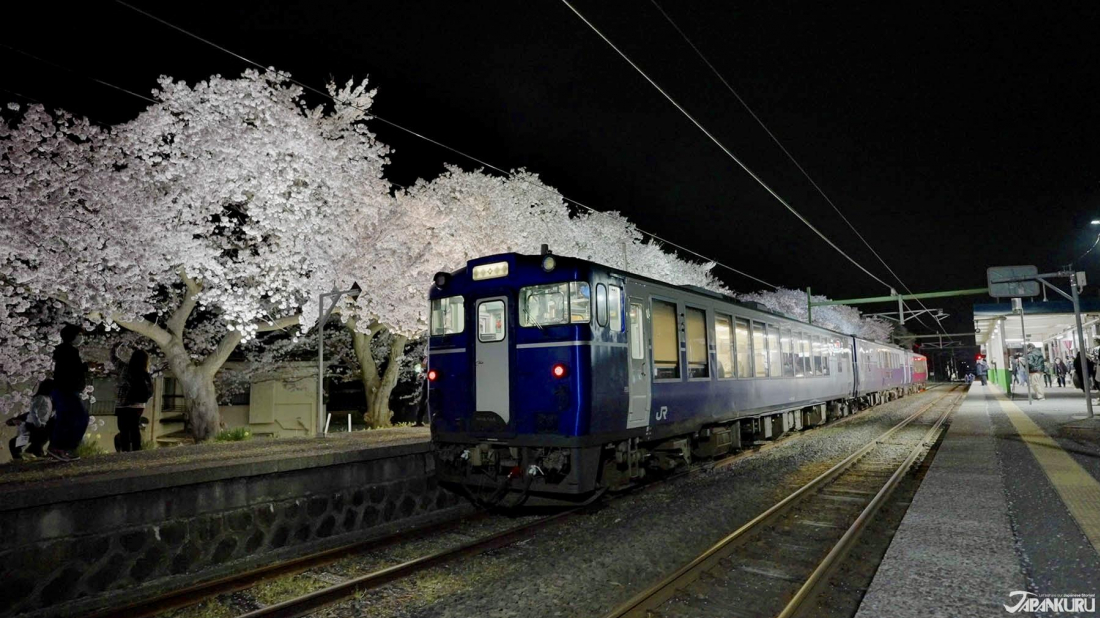 The view from Bunsui Station's platform is lovely at any time of day, and many sightseers and photographers also gather after sunset, when the cherry trees are brightly lit from below. Once a year, the atmosphere becomes especially festive with the arrival of one train in particular, the JR Shu*Kura. The Shu*Kura is a special sightseeing train that only makes one stop in Bunsui each year, to take passengers on a fun ride past the beautiful cherry blossoms. Locals gather and make something of an event out of it, ringing musical "Cherry Bells" to welcome passengers getting off the train, and setting up food stalls outside the station. It's fun to join the festivities whether you're getting on the train or not!
Shu*Kura Train (シュクラ)
Official Website (en)
・Bonus!・ Yahiko Park + Panda Sweets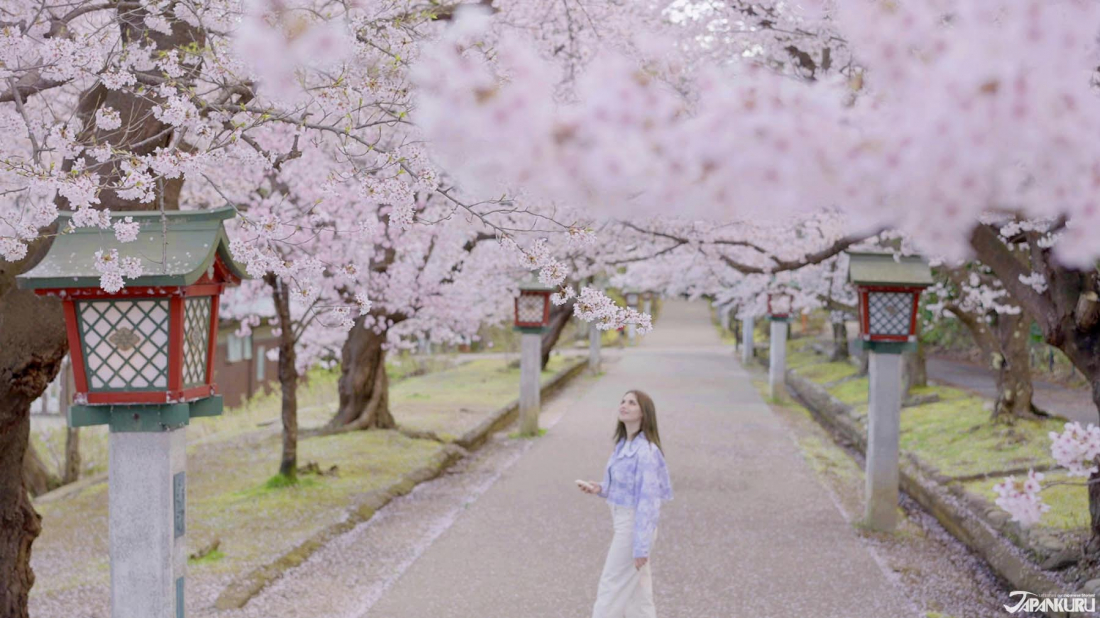 One extra cherry blossom recommendation in the area is Yahiko Park, not far from
Yahiko Shrine
! This park is mostly known for colorful autumn foliage, so we'd definitely recommend coming back again in the fall, but you certainly won't be disappointed if you visit in the spring! The lanterns add a little something special to this park path lined with cherry blossoms.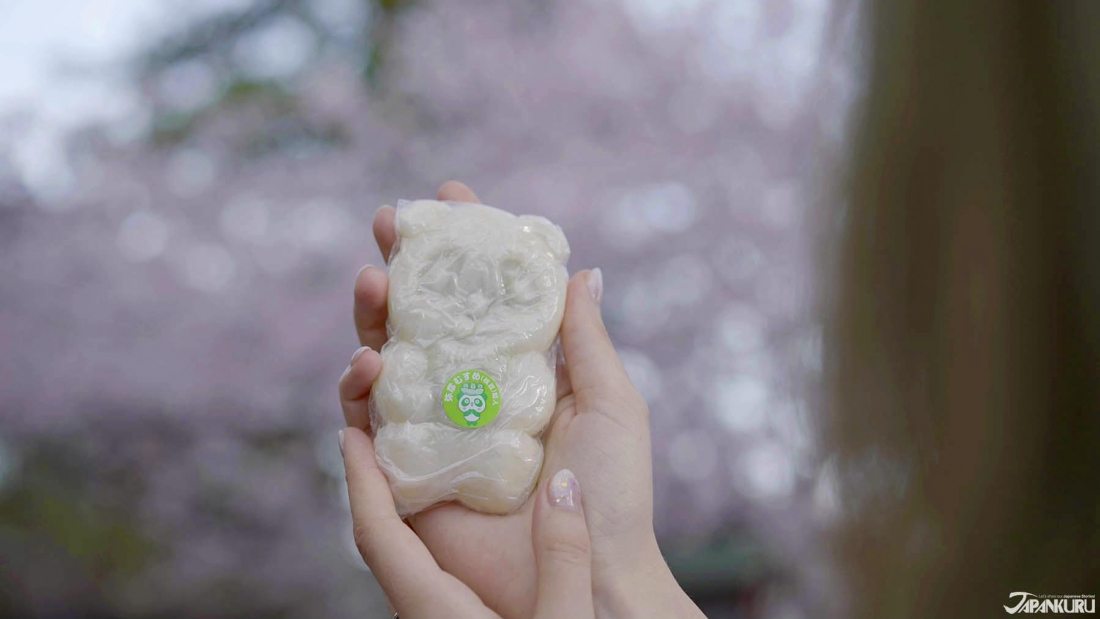 Next to the park, you can also grab yourself a bite to eat while you enjoy the flowers: a local snack that's won praise on a national level! The "panda-yaki"
manju
(パンダ焼き) at Bunsuido sweets shop are little steamed cakes made in the shape of a panda, and they have such a uniquely chewy texture that you might mistake them for mochi. Filling options for the little pandas include red bean, custard, or cream cheese, but the most popular filling of all is zunda (ズンダ), which is a sweet bean paste made with edamame! The surprising flavors and textures of this local treat won awards at Japan's "National Oyatsu Ranking Grand Prix" (a national competition for sweets and snacks) a few years back, so you know it's worth trying!
Bunsuido (分水堂菓子舗)
1041-1 Yahiko, Nishikambara District, Niigata
Official Facebook Page
A Region of Seasonal Delights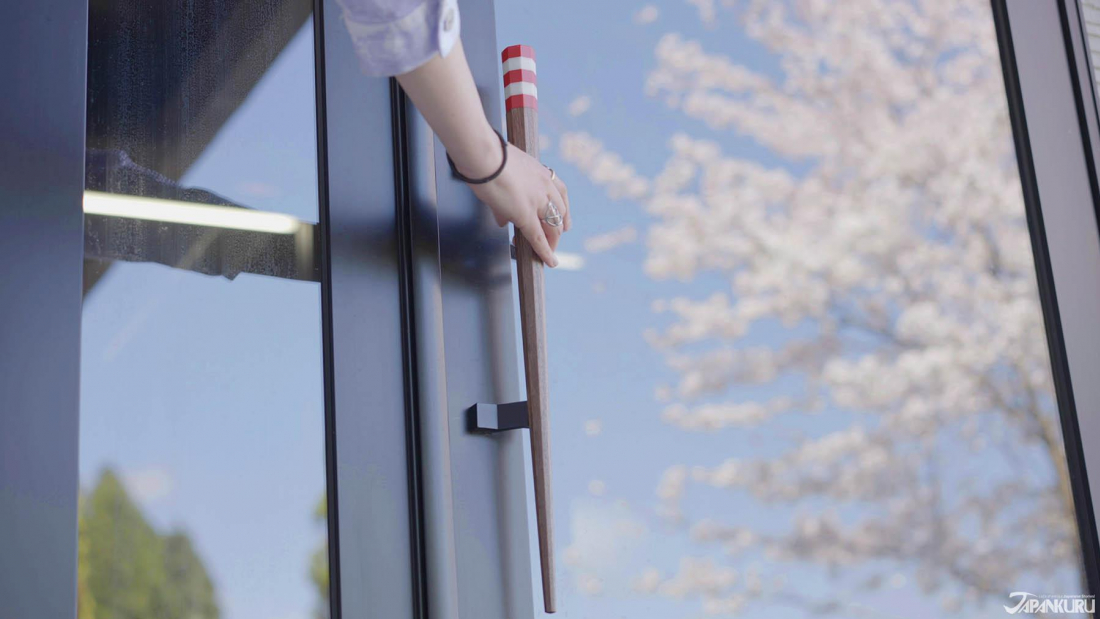 When the spring cherry blossom season starts to come to a close in cities like Tokyo, that means Japan's northern regions are just starting to look their best, so don't mourn the end of the year's cherry blossoms just yet! Visit Niigata Prefecture and get off at Tsubamesanjō Station for another dose of beautiful spring flowers and wonderful seaside weather, then come back again to see the green of summer, the red autumn leaves, and the white snow of a Niigata winter! The shinkansen is waiting to whisk you away!
▲ See the cities brought to life in our Tsubame-Sanjo video!
Tsubamesanjō Station Access
▶ JR EAST Jōetsu Shinkansen Line
・Under 2 hours from Tokyo to Tsubamesanjō Station.
▶
JR EAST Pass (Nagano, Niigata area)
Recommended!
・5 days of JR EAST trains, including shinkansen and limited express trains, plus some JR buses for 18,000 yen (tax included).
・Available to foreign travelers and foreign residents.
▶ "About JR EAST"
Official Website (en)
▶ "Seat Reservation Service Online for Shinkansen and Limited Express Train in East Japan Region"
JR EAST Train Reservations (en)
For more info and updates from Japan, check Japankuru for new articles, and don't forget to follow us on
twitter
,
instagram
, and
facebook
!
Basic Info

| | |
| --- | --- |
| Name | Tsubame-Sanjo Area |
| Station | Tsubamesanjō Station (燕三条駅) |
Related Article