Gotokuji Temple ・ A Tokyo Oasis of Manekineko Lucky Cats Along the Setagaya Line
Looking for a little luck? Follow these beckoning kitties to Tokyo's Gotokuji Temple.
Gotokuji, a Temple of Samurai
Ever noticed the little cat figures in Japanese restaurant windows or perched near cash registers, with one paw up as if they're waving you over? These lucky cats are called manekineko (招き猫), literally "inviting cat," and they're thought to be charms that bring prosperity wherever they may be. But in Tokyo, there's one lucky spot with more lucky cats than you've ever seen in one place: Gotokuji Temple. Legend has it that this temple may even be the birthplace of these popular charms! Now a popular sightseeing destination along the Tokyu Setagaya Line (especially among cat lovers), the temple (properly Daikeizan Gotokuji or 大谿山 豪徳寺) was once the family temple of the Ii Clan, a samurai family with members in high places, who eventually ended up as the lords of the Hikone domain in
western Japan
. At the time of the temple's designation, the Ii Clan were in charge of an area now found in western Tokyo, and this old family temple still marks their territory.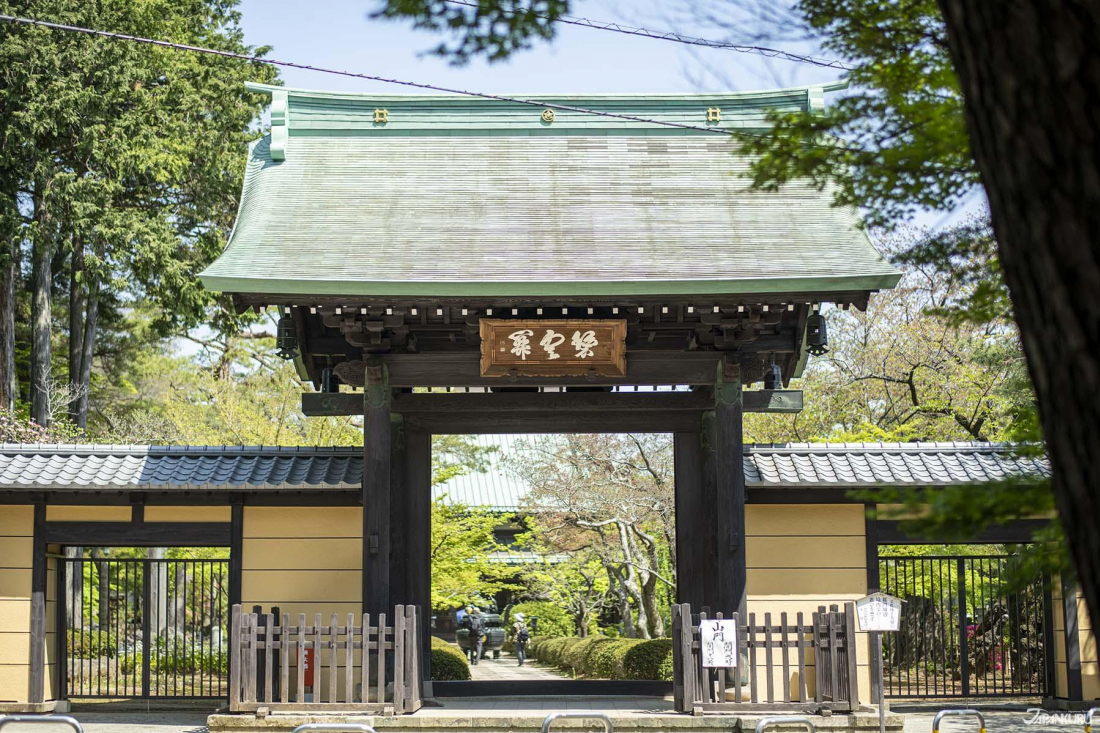 Despite being in a fairly accessible part of Tokyo, the Gotokuji Temple grounds are full of green pines,
plum and cherry trees
, peonies,
azaleas
, and all kinds of colorful flowers and greenery. In the autumn, the leaves turn red and orange, making it a popular spot for
koyo
as well. Whether you love lucky cats or not, the temple garden makes Gotokuji an ideal place to stop for a moment of peace and a breath of fresh air.
So, Why the Cats?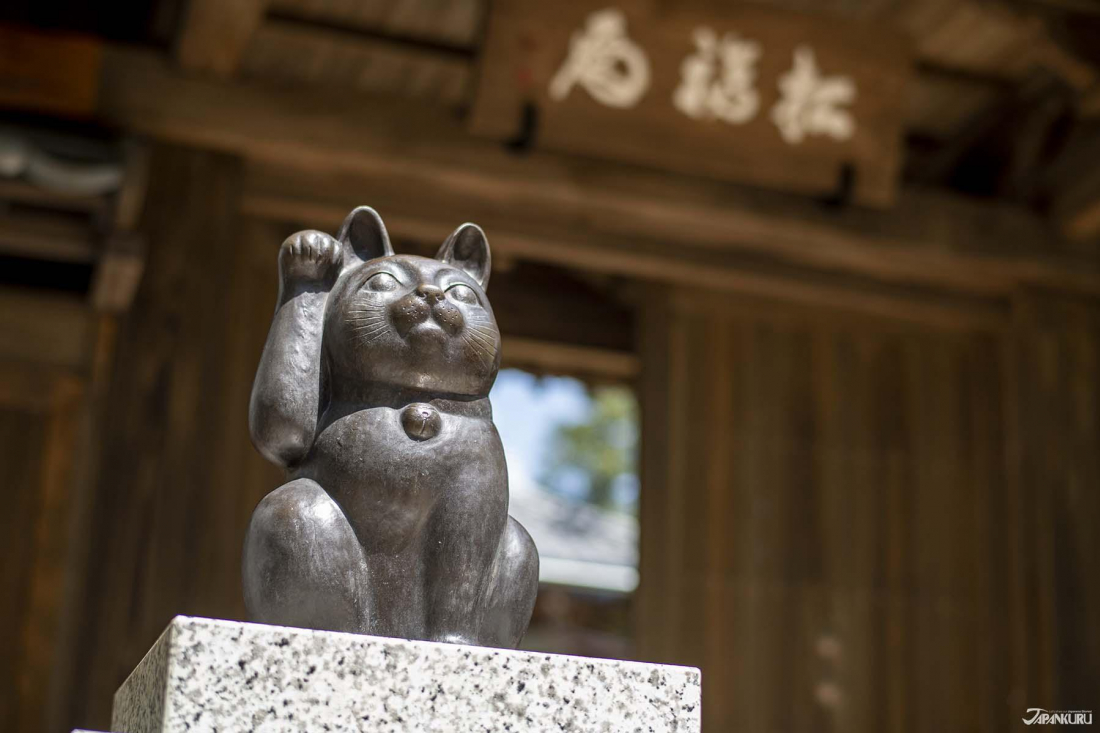 The story goes that once upon a time in the early 17th century, the daimyo Ii Naotaka was strolling along on his way back from falconry practice, when he walked past a temple gate and noticed a cat beckoning him inside. Ii Naotaka must have been a cat lover, because he decided to stop in at the temple for a while, and as soon as he followed the cat inside, the skies opened up and the sound of thunder crashed through the air. Of course, Ii Naotaka was safely under the roof by that point, and having avoided the terrible weather, he proceeded to have a very pleasant chat with the temple monk. His heart full of gratitude for being whisked away from the storm just in the nick of time, Ii Naotaka supported the temple from that point onward, and he even had it rebuilt in 1633.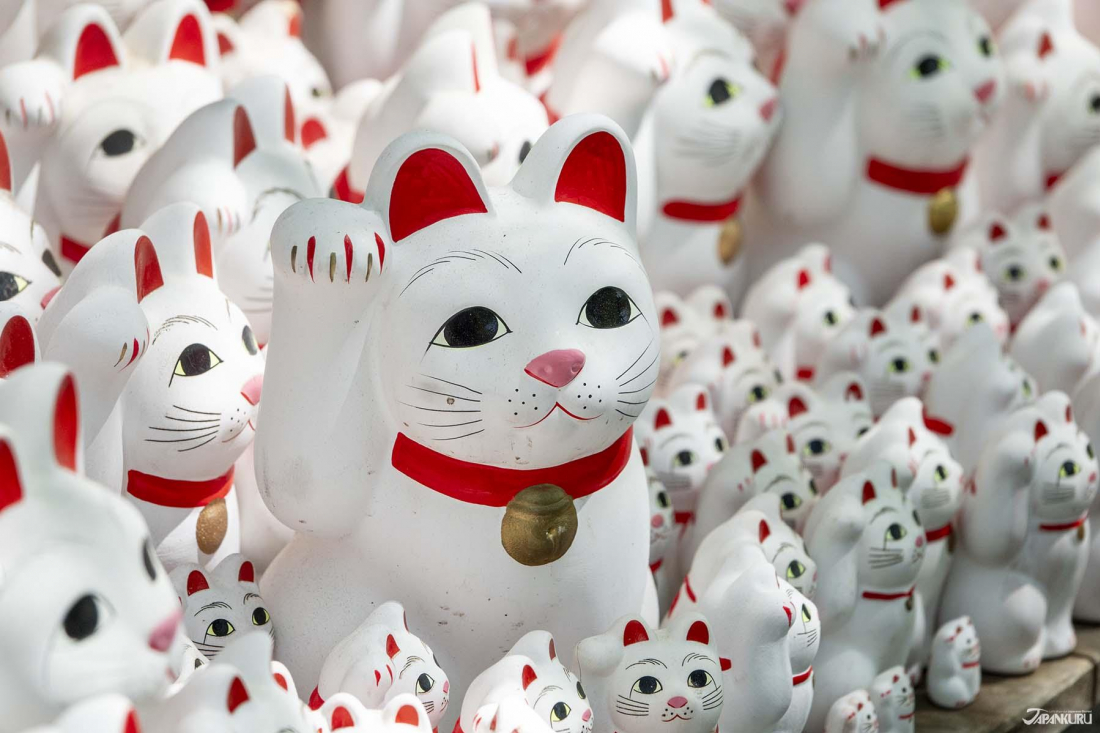 Thanks to the enduring bond between Ii Naotaka and that temple cat, Gotokuji Temple even built a Buddhist shrine to Kannon called the Shofuku-den that's really more of a shrine to Ii Naotaka's feline friend, and named the beckoning cat the Manekineko. Nowadays, there are a huge number of the lucky cats of all sizes in and around the Shofuku-den, and it's said that the cats can help grant you good health, prosperity, and all kinds of luck. Plus, it's a great place to take pictures.
It's worth noting that, while the Gotokuji Temple cats have their right paws raised in the classic position, they do not have their left paws reaching for any gold coins, a position often found on standard manekineko. It's said that, because the Iis were a samurai clan and not merchants,
the beckoning manekineko's right paw is offering opportunity
- not just monetary results.
Play Cat and Mouse Around Gotokuji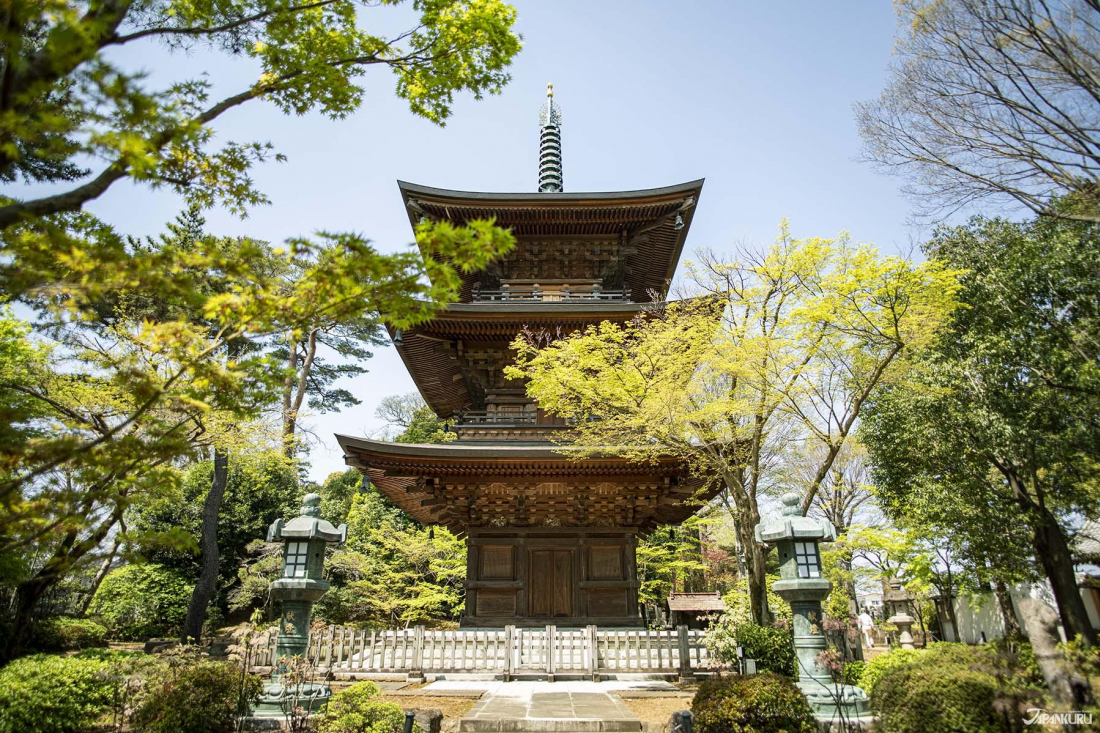 In addition to the Shofuku-den, there are actually a number of places around Gotokuji Temple where you'll find "hidden cats," including the 22.5-meter three-tiered pagoda. Tucked away among the carvings above the pagoda entrance, the twelve animals of the zodiac prance along the wall, along with quite a few little cats. In the traditional story of the zodiac, it's said that the cat wasn't chosen to be one of the 12 animals because it was tricked by the rat. Fortunately at Gotokuji, or at least in this carving, the two creatures seem to be getting along alright!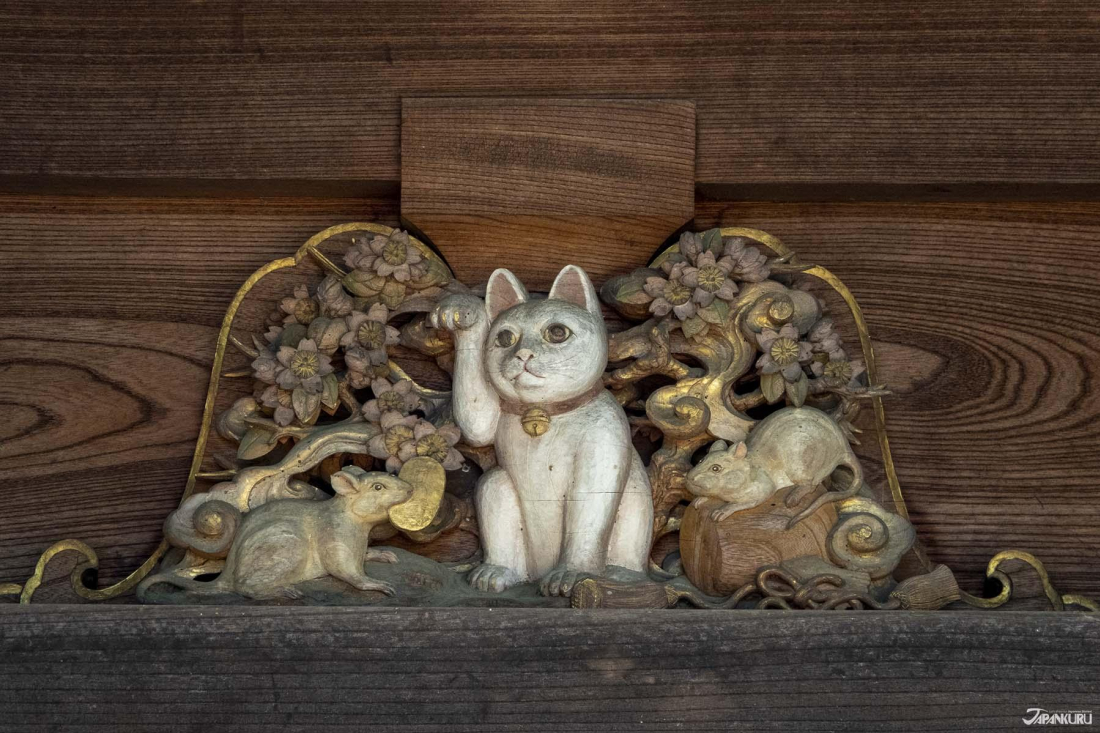 Where else can you find hidden kitties around the temple grounds? We'll leave it to you to find out, so don't forget to keep an eye out!
Getting to Gotokuji Temple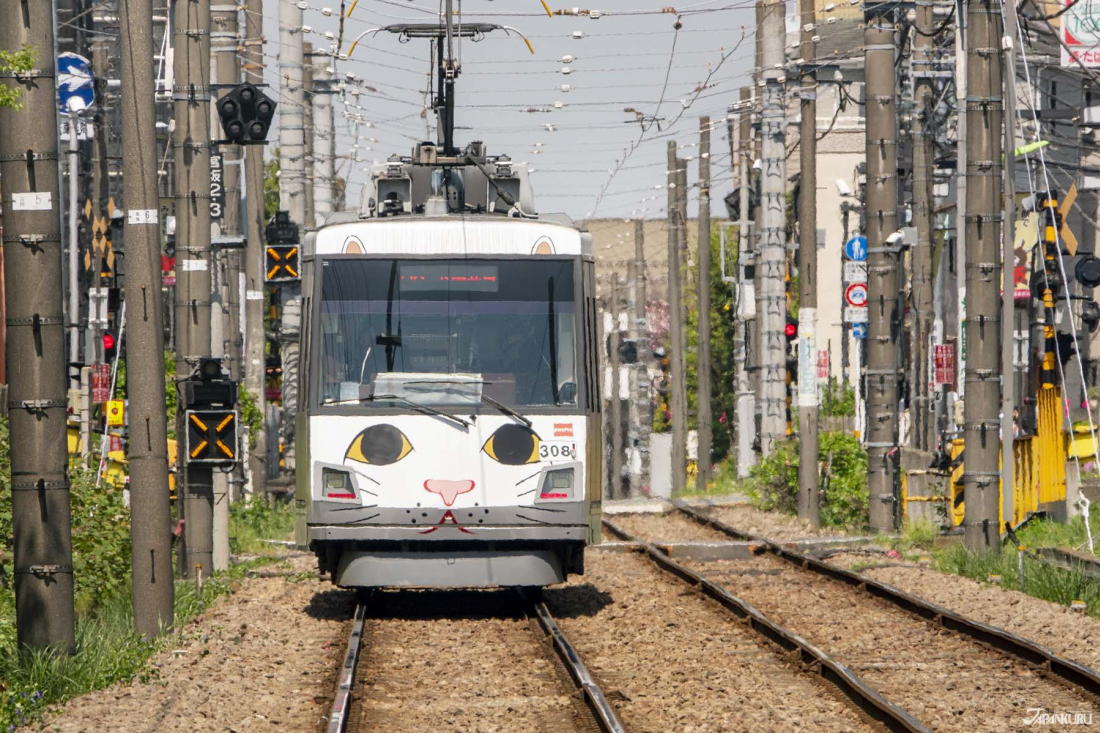 For those with a fondness for trams, trollies, and streetcars, getting to Gotokuji Temple is half the fun! One of just two streetcar lines still remaining in Tokyo, the Tokyu Setagaya Line slips through a little chunk of western Tokyo at street level, sometimes even using cars decorated to look like the temple's lucky cats. The Setagaya area is lively and full of interesting shopping spots and bits of everyday Tokyo life, making Gotokuji Temple (5 min from Miyanosaka Station/宮の坂駅) just one stop on a fun Tokyo tour!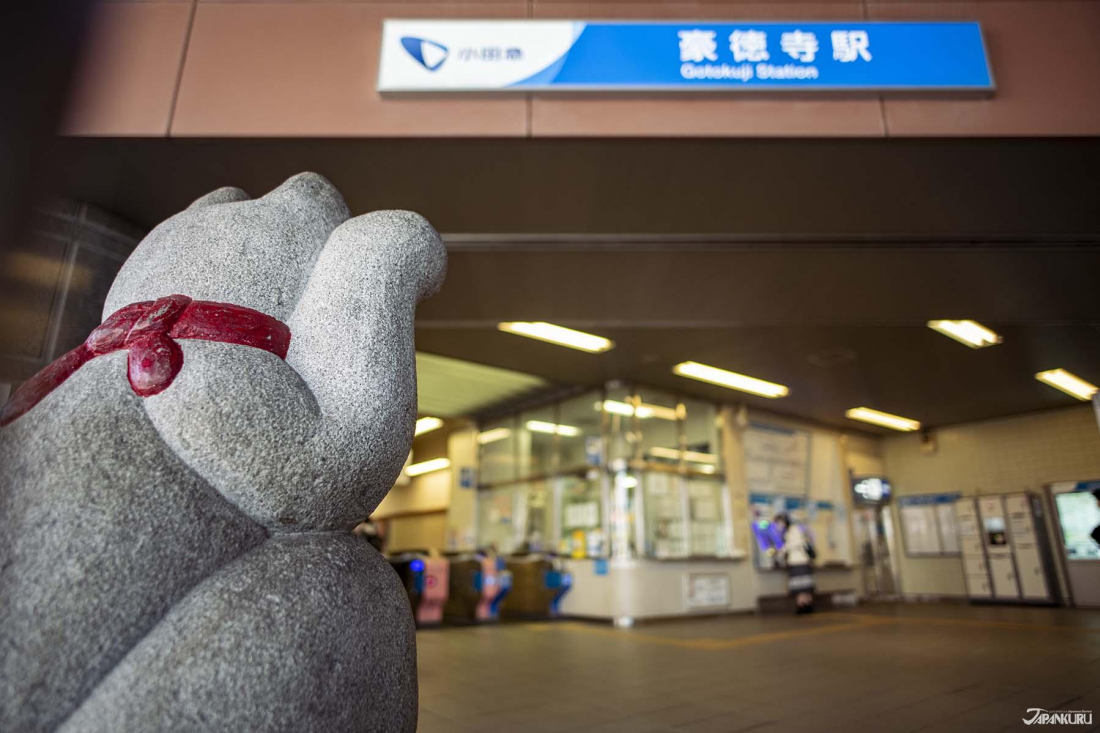 For a quicker train trip, there's always Gotokuji Station on the Odakyu Line instead, which is slightly farther from the temple, but has the added bonus of housing a little lucky cat statue, which waits to greet travelers by the ticket gates. If you want to hunt down every single iconic lucky cat in the area, this one's a must-see.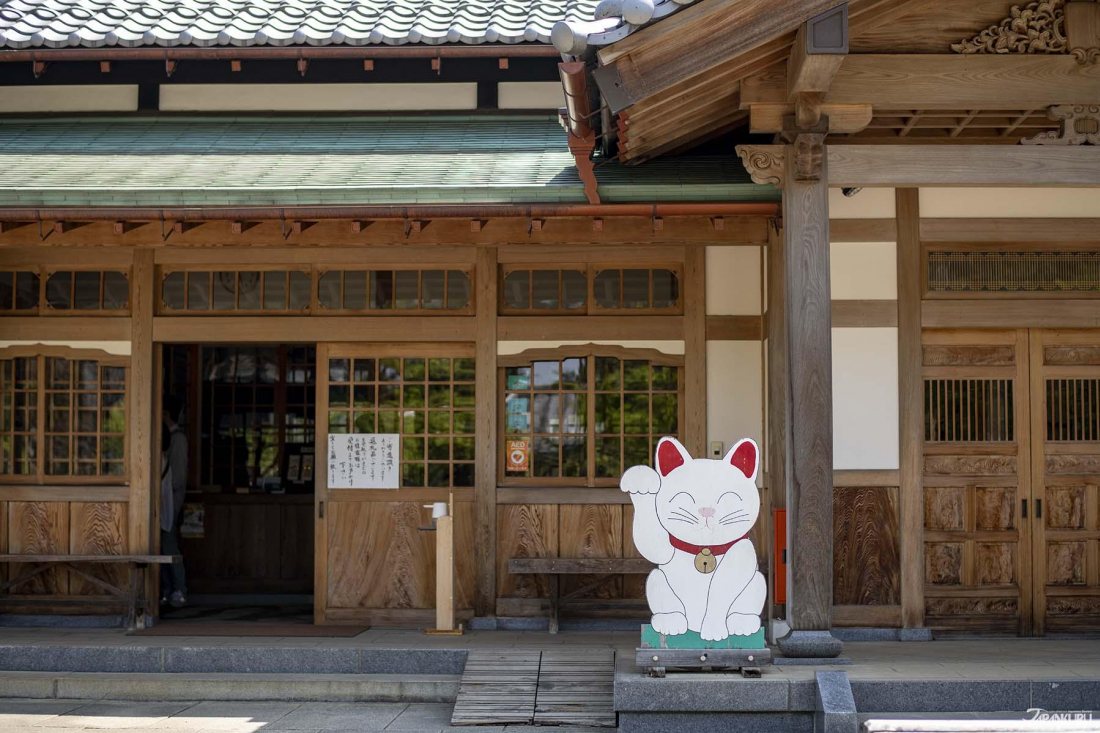 Gotokuji Temple (大谿山 豪德寺)
2-24-7 Gotokuji, Setagaya City, Tokyo
Hours:
6:00 - 18:00 (late March ~ mid-September)
6:00 - 17:00 (late September ~ mid-March)
*Temple office etc. open 8:00 - 16:30 (~17:00 in summer)
Access: 5 min from Miyanosaka Station, 12 min from Gotokuji Station
Official Website (en)
Related Article