A Romantic Train Ride In Fukushima Japan Tadami Line - Day 1
We've set off into the icy cold and startlingly beautiful landscapes of Tadami!
A Beautiful White World
We traveled to a beautiful city in Fukushima in March where is in the northeast part of Japan. It was still covered by white snow at that time. The views are amazing!
Travel by Tadami Line - Day 1
From Koriyama Station to Aizuwakamatsu Station
After arriving in Koriyama Station, we transferred to the Banetsusai Line, and it took about 70 minutes for us to get to Aizuwakamatsu Station. The fare was 1,144 yen.

More information about train pass: http://www.jreast.co.jp/e/eastpass_t/index.html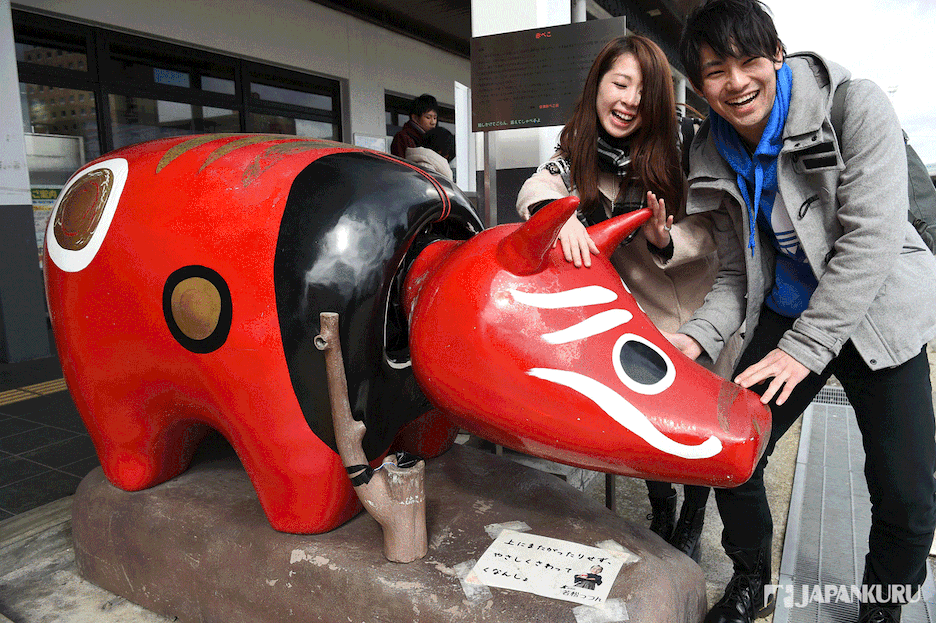 Symbolic animal of Aizu, the red bull (Akabeko)
It was said that long long ago, there was a big earthquake in Aizu Yanaizu area, and there was a huge loss of lives and damages. Later in 1617, the temple was decided to move to the current location, but there were lots of difficulties in moving the temple. Suddenly, many red bulls appeared in the town and helped the local bulls to move the woods, and that's how the temple was able to move to a new place successfully. After the temple was moved, these red bulls disappeared and could not be seen again! Maybe it is just a story of the Akabeko, but it surely means a lot to the locals here!
Beautiful Local Train - Tadami Line
Tadami Line was opened in 1942 and operated by JR. It is 135 km long and it runs between Aizuwakamatsu Station in Fukushima Prefecture and the Koide Station in Niigata Prefecture. There are 37 stations in total.

In March 2016, we could still see the damage caused by the typhoon in 2011. Actually 7 stations were damaged by the flood among the 37 stations. There are buses running between these stations, so don't worry about the transportation too much.


Our first stop at Aizu-Yanaizu
From Aizuwakamatsu station, it only takes an hour to get here. Just remember to get off the train at the 11th stop. It was not a crowded station, so we could sit down and warm our hands and feet near the gas stove.

Let's begin our sightseeing tour in Aizu-Yanaizu!




01. Get the famous "Awa Manju" from the "Koike Okashi Shop"
About 170 years ago, a monk made this steamed bun for the locals to eat to get good luck. Since than, this steamed bun became the famous souvenir for everyone!
02. Visit the Kiyoshi Saito Museum
Mr. Saito was born in 1907, and he was the master of woodprints. In most of his works, you can see he used many ideas from his hometown Aizu. It is a good place to visit and you can learn more about the scenery in Aizu here maybe!

Opening hours: 09:00 - 17:00 (Last admission: 16:30)
Closed on every Monday (What a national holiday falls on Monday, the museum is open on Monday and closed the following day)
Admission Fee: 510 yen (Adults), 300 yen (High School to University students), 200 yen (Elementary to Junior High School students)
Access: 20 minutes walk from Aizu-Yanaizu Station
03. Taste the local style food at "Kachan No Manmaya" Restaurant
All the food is made with local ingredients, so this restaurant is one of the best place to experience the local taste and food. Just look at the name of the restaurant, you can feel how warm it is to eat in here, "Kachan No Manmaya" (The mother's table)
It is a famous buffet restaurant for the locals here. Look how busy it was on the day that we visited.

Only 880 yen for the buffet lunch! Yes, that's right! 880 yen only!!

Let's see what did we have that day. We had the deep-fried tofu with potatoes, green salad, nado, deep fried chicken and other local tasted food.


Our next stop, Aizu Kawaguchi Station
Because we needed to transfer to the shuttle bus to skip the part that was damaged by the flood, so we got off at the Aizu Kawaguchi Station.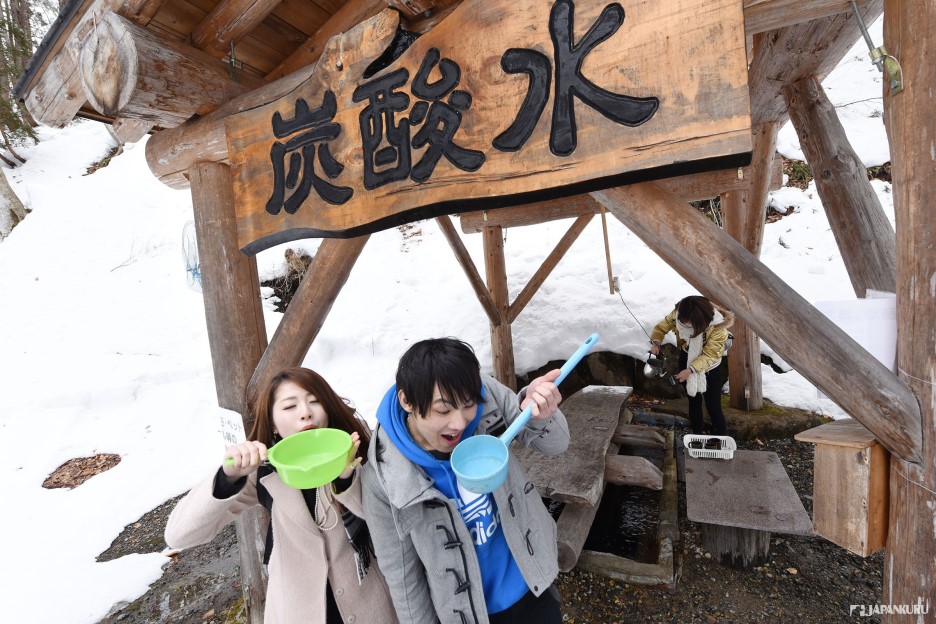 Aizu Oshio Carbonated Water Well and Hot Spring
Since we still got time, we decided to visit an onsen first. Actually the carbonated water is soft water here which is very rare indeed. It is said that this kind of water is especially good for cooking. Also, it is said that the water is rich in iron which is popular among the ladies.

Aizu Oshio Carbonated Water Well and Hot Spring
Access: 10 minutes walk from the Aizu Oshio Bus Stop
Last stop for today - Tadami Station
It was a little sad that we couldn't take the train to get to this station because of the damage. However, it was still a great experience for us to get here by the bus.
Minshuku (A budget version of hotel) "Tadamisou"
Address: In front of Tadami Station
Price: 7,500 yen (1 person per room) per room per night (dinner and breakfast included) for Adults (Jr. High School and above), 7,000 yen for each person (2 persons per room)
Reservation (Japanese):
https://ssl.formman.com/form/pc/pU59edD6Brie6zs2/

Traditional tatami room with kotatsu (a wooden table with a blanket and a heat underneath). Fridge and sink can be found too.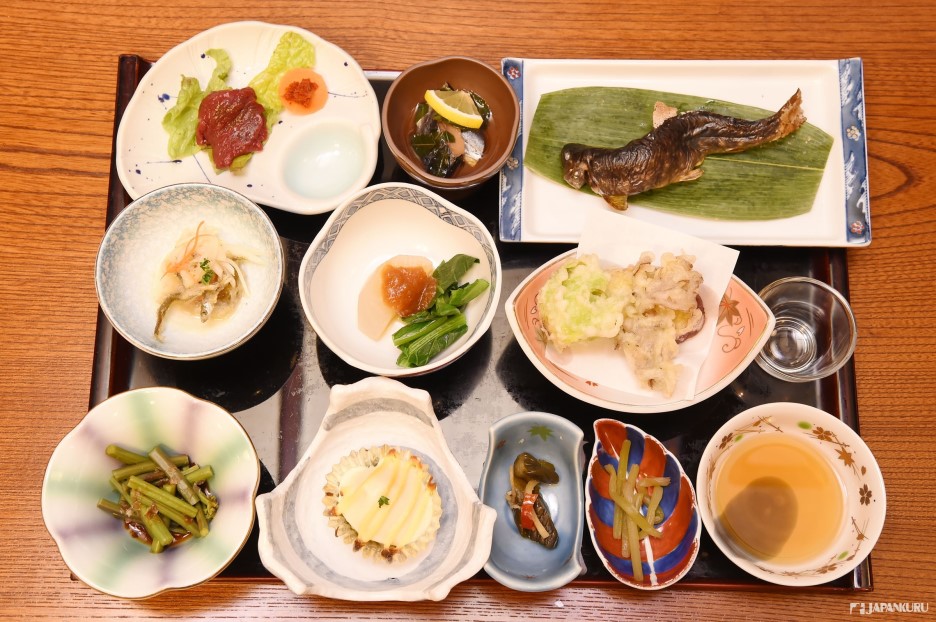 Even though we could not expect a luxurious dinner at a Minshuku, but the dinner prepared by the owner was still very nice. We were told that the food was made with local ingredient. The handmade buckwheat noodles was amazing too.
So what were waiting for us tomorrow? Come back and check out our next sharing soon!! Good night for now!
More Details on Day 1:
JAPANKURU Blogger
If you have want to share your Japanese stories with us? Please join us on
Google+
!!
See you there! :)
Basic Info

| | |
| --- | --- |
| Station | Aizuwakamatsu Station |