Getting to Hokkaido from Tokyo by Ship | Shosen Mitsui Ferry Sunflower
Take a Ferry to Hokkaido and Travel to These Main Hokkaido Spots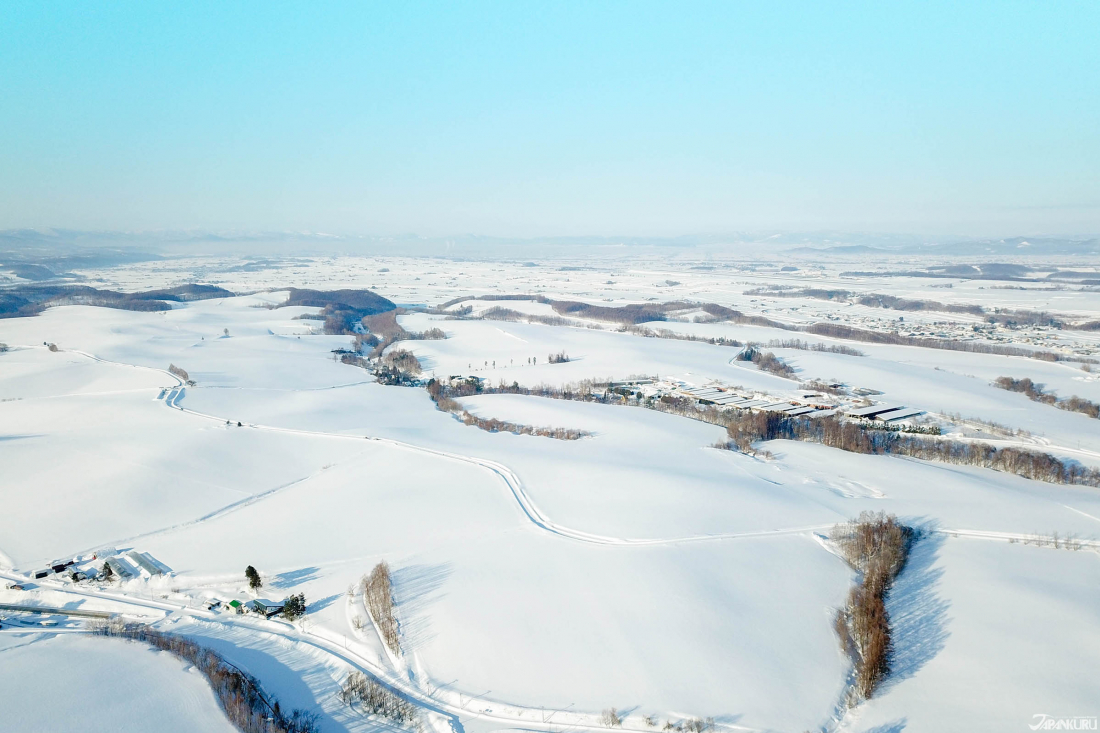 Hokkaido Highlights
Hokkaido, the winter wonderland of Japan. More and more people are realizing Hokkaido's charm and beauty and making it a must-visit destination while in Japan. But what are the best ways to get to Hokkaido from Tokyo? The bullet train and airplane are obvious answers, but for those who want to experience something different, we have something for you! Awhile ago
JAPAN
KURU
introduced a ferry that you can take from Ibaraki Prefecture to Hokkaido. We have talked about the
overall system of the ferry
,
things to do before boarding in Ibaraki
...but we have yet to mention what to do once you actually arrive in Hokkaido! Thus as a final part of our ferry series, JAPANKURU is taking a closer look at why you should be visiting Hokkaido next time you plan your trip to Japan, and what to do after you arrive at Hokkaido's Tomakomai West Port Ferry Terminal.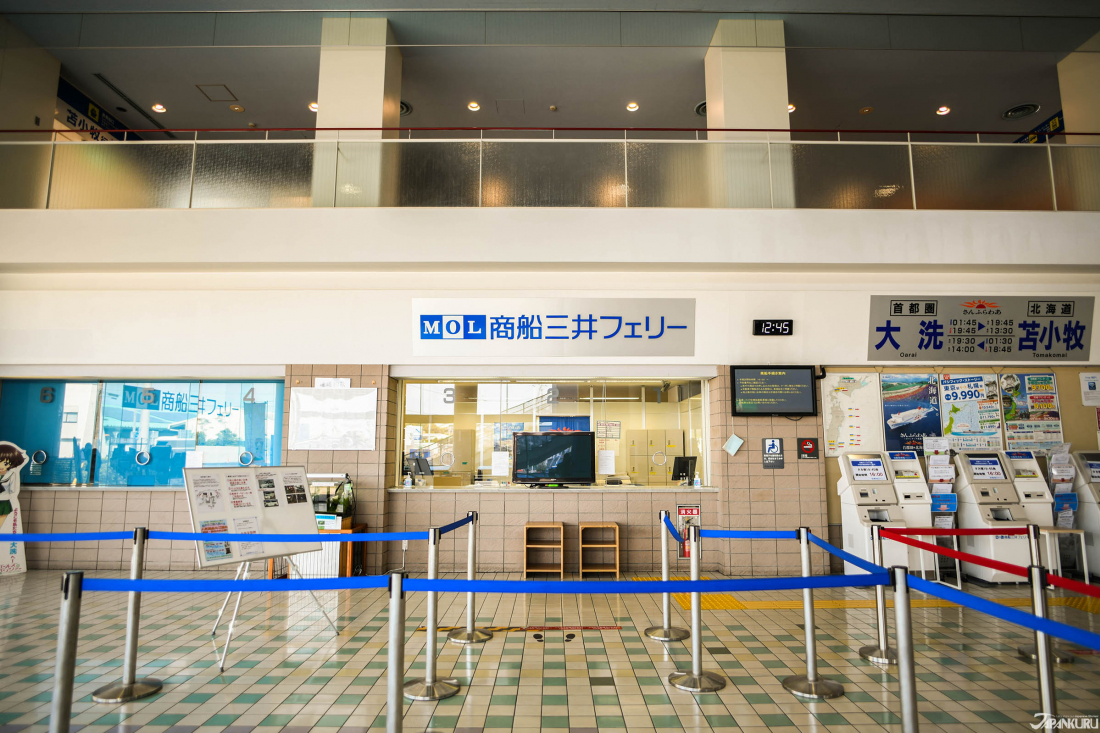 Buying a Ticket
In case you missed it in our past articles, the first thing you need to do is head to the Oarai Port Ferry Terminal. There are 2 different ways to get to there; car or bus. There is a more detailed information on getting to
Oarai Port Ferry Terminal from Tokyo here
. Once you arrive you can buy or pick up your tickets at the front counter and wait to board. It is also important to mention that there are 2 different ferries; evening ferry and night ferry. If leaving from Oarai the two depart times are 7:45pm and 1:45am. So choosing the time depends on your schedule.
📅
Make a reservation here!
💴
MOL Ferry prices here!
Getting to Hokkaido from Tokyo by Ferry
There are really a lot of ways getting to Hokkaido, but a new, more original way of getting there is by ferry. It really is one of the most low key ways of traveling. Like mentioned before, starting at Oarai Port Ferry Terminal in Ibaraki, all you need to get is be sure you have your tickets and you are ready to board. From there it is smooth sailing. You will have a room on board to sleep and relax along with a restaurant, public bath, and more to make your transfer stress free. Once you wake up, you'll be in Hokkaido! What are some of the things to see once you arrive in Hokkaido though? Below are some of the places we went to afterwards and had a wonderful time.
Noboribetsu Hot Springs (登別温泉)
Noboribetsu Onsen (登別温泉) is one of the best and most famous hot spring resorts in Hokkaido. A large amount of Noboribetsu's many types of hot spring water surfaces in the spectacular Jigokudani or "Valley of Hell" (or "Hell Valley" depending who you ask) just above the resort town. Noboribetsu is part of Shikotsu-Toya National Park which is an interesting contrast of volcanic rock and beautiful blue lakes and skies.
♨Noboribetsu Hot Springs (登別温泉)
Google Maps
🚙Car rental map Code: 603 288 425*46
🚉JR Noboribetsu Station (登別駅) → From the station take a 15min bus ride
💻Noboribetsu Hot Springs (ENG)



Hell Valley (登別地獄谷; Jigokudani)

Jigokudani (地獄谷) or "Valley of Hell"/"Hell Valley" is a spectacular, appropriately named valley just above the town of Noboribetsu Onsen, which displays hot steam vents, sulfurous streams, and other volcanic activity. Being formed after a big volcanic eruption over 20,000 years ago, it is the main source of Noboribetsu's hot spring waters. It is important to mention that during winter some of the walking trails above the Jigokudani might not be accessible, however, while there we had no issues.

River Oyunuma Natural Footbath
(大湯沼川の天然足湯)

Close to Hell Valley along Oyunuma (お湯沼) is a river called Oyunumagawa (大湯沼川). Still hot, the river flows through the forest, creating a completely different experience compared to Hell Valley. The river is a few hundred feet and being a natural hot spring from the river, the temperature changes depending on the weather. It is possible the best place to enjoys Japan's a natural foot bath (足湯; ashiyu).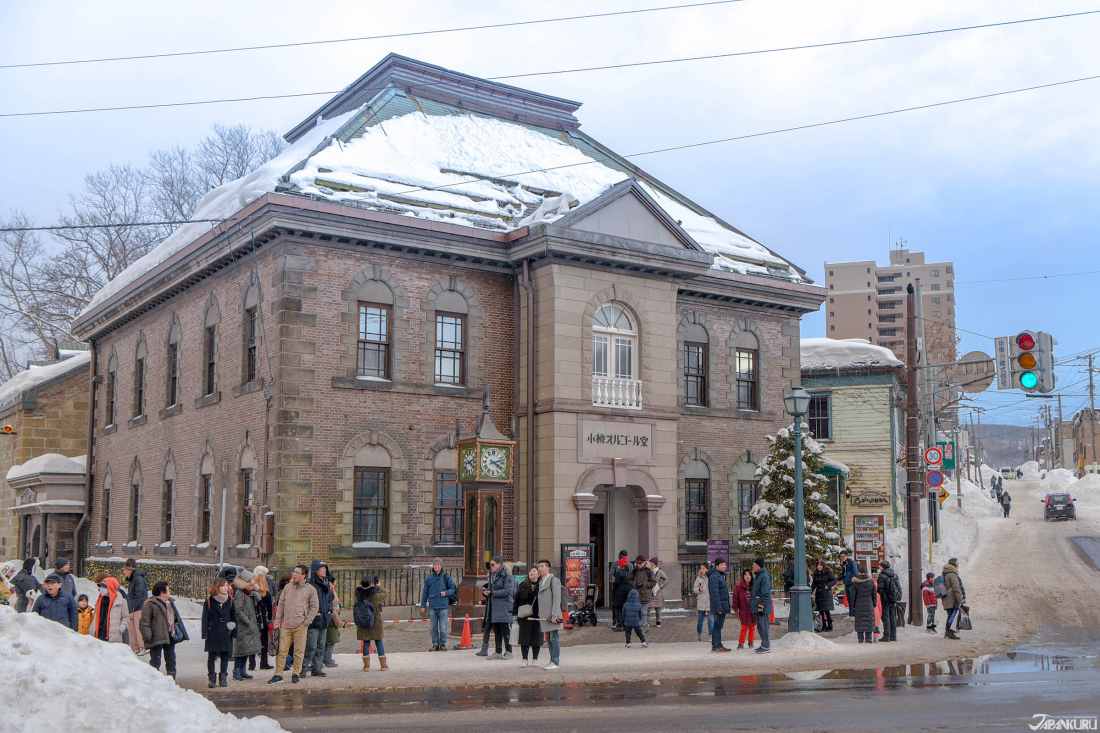 Otaru Music Box Museum (小樽オルゴール)
If you are in Otaru, you should really stop by the
Otaru Music Box Store
. Originally built as a warehouse in the Meiji era, it has a long history of becoming the music box hall it is today in 1912. There are many music box stores and museums all around Japan, but this one in Otaru is said to be the biggest of them all. Just look for the big wooden clock tower!
🎶
Main Building of the Otaru Music Box Museum (小樽オルゴール堂)
🏢4-1 Sumiyo-cho, Otaru, Hokkaido
Google Maps
🚙Car rental map Code: 493 661 522*51
🚉5min walk from JR Minami Otaru Station (南小樽駅)
⏰: 9am~6pm
💻
Otaru Music Box Museum
(ENG)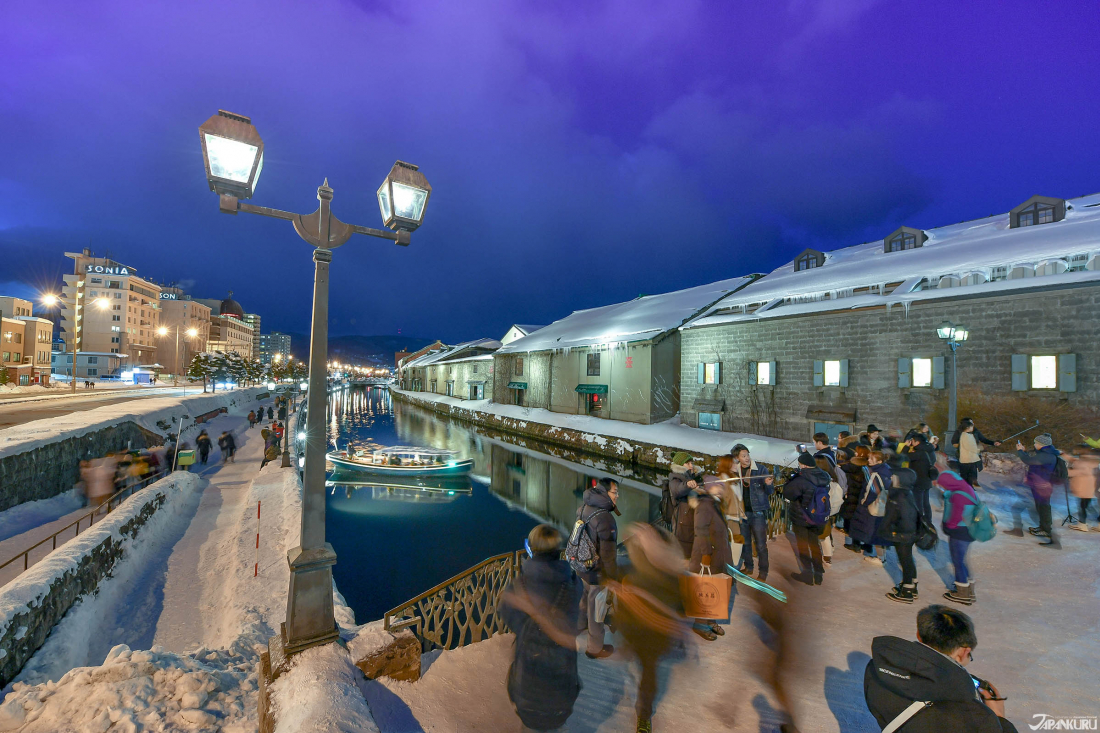 Otaru Canal (小樽運河)
The symbol of Otaru, if not Hokkaido, is the
Otaru Canal
and it is normally a MUST visit tourist spot in Hokkaido. Completed in the year 1923, when Japan had Westernized, the canal was built to support shipping boats increasing in Hokkaido. Along the canal are beautiful old buildings true to Otaru's red brick history that is most beautiful at night when the gas lamps are light. If interested you can even take an
Otaru Canal cruise
that reminds you of those gondolas rides you see in Italian movies.
🌉Otaru Canal (小樽運河)
🏢5 Minatomachi, Otaru-shi, Hokkaido
Google Maps
🚙Car rental map Code: 493 690 414*35
🚉10min walk from JR Otaru Station (小樽駅)
Hokkaido Ice Pavilion (アイスパビリオン)
Just in case you do not make it to Hokkaido during the winter but want to be around the snow, we recommend Hokkaido Ice Pavilion. Becoming an all year long ice world, the pavilion is kept -20℃ (-4℉) and you can choose 5 different ways to experience just HOW COLD that really is! We tried the frozen towel, but banana hammer also caught our attention. Taking things a bit further, visitors can experience -40℃ (-40℉) which is the coldest temperature you can experience in Japan! If you would like to explore winter activities in Hokkaido, this is a place you should visit.

⛄Hokkaido Ice Pavilion (アイスパビリオン)
🏢40 Sakae-machi, Kamikawa-machi, Kamikawa-ku, Hokkaido
Google Maps
🚙Car rental map Code: 623 630 207*60
🚉JR Kamikawa Station (上川駅)
💻Hokkaido Ice Pavilion (JPN)
Shirahige Waterfall (白ひげの滝 )
Located 600 meters (1968ft) above sea level in the hot spring city Biei, this waterfall is 30m (98ft) tall. Its name meaning white beard (written as Shirohige, but pronounced Shirahige) is taken from how the water flowing down the gaps between the rocks resembles a white beard. It is a rare and special waterfall in Japan because of the water springs from beneath the rocks falls with force to the rocks below, creating a beautiful splash of cobalt blue.


🌉Shirahige Waterfall (白ひげの滝​)
🏢Shirogane, Biei-cho, Kamikawa-gun, Hokkaido
Google Maps
🚙Car rental map Code: 796 182 575*30
🚉JR Biei Station (美瑛駅) - take a bus from there
Blue Pond (青い池)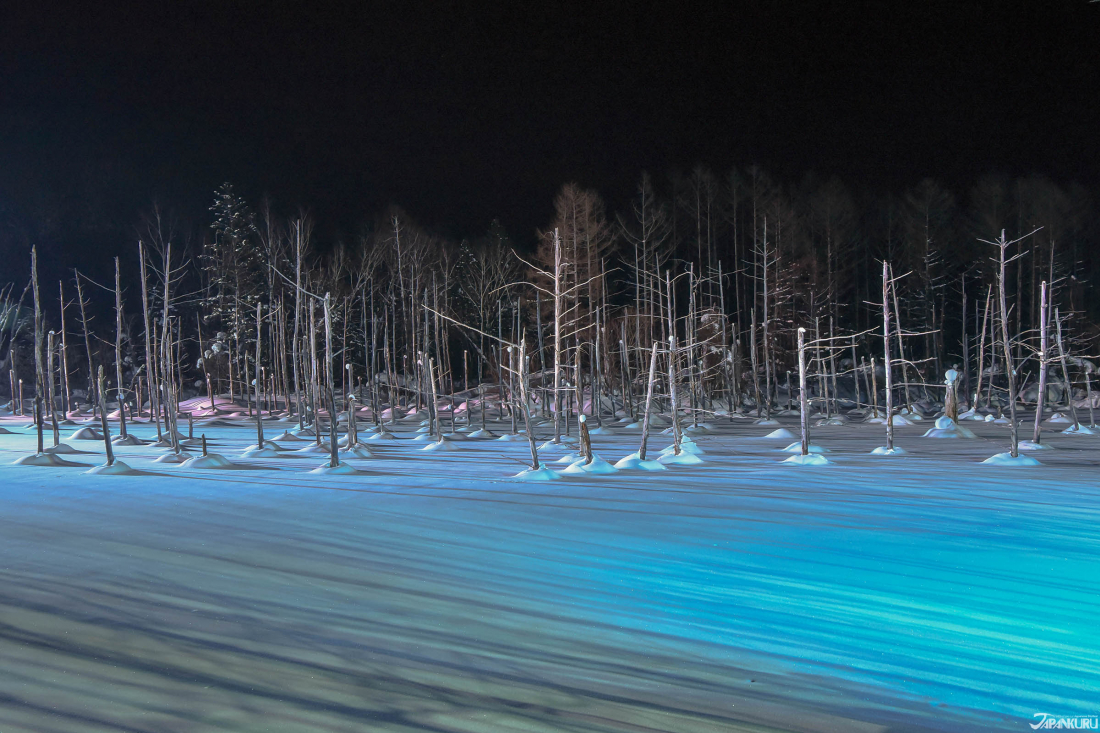 Go further downstream from Shirahige and you will run into
Blue Pond (青い池)
. Blue Pond is a man-made pond that is surrounded by trees at about 500m (1640ft) above sea level. Originally made to protect the town of Biei from volcanic mudflows, it gets its stunning blue color from the Biei River itself. After water from the surrounding waterfalls and hot springs containing aluminum in Biei River mixed in with the hot springs containing sulfur from Iou River (硫黄川), there would be a blueish reflection once the light hit it. Thus giving its name the "Blue River". During the winter when snow and ice cover the lake, lights are shined along the area so even during the winter you get a lovely view.
🌲
Blue Pond (青い池)
🏢Shirogane, Biei-cho, Kamikawa-gun, Hokkaido
Google Maps
🚙Car rental map Code: 349 569 814*88
🚉JR Biei Station (美瑛駅) - take a bus from there
🚌
Dohoku Bus information from Biei Station
💻
Biei Tourism page
(ENG)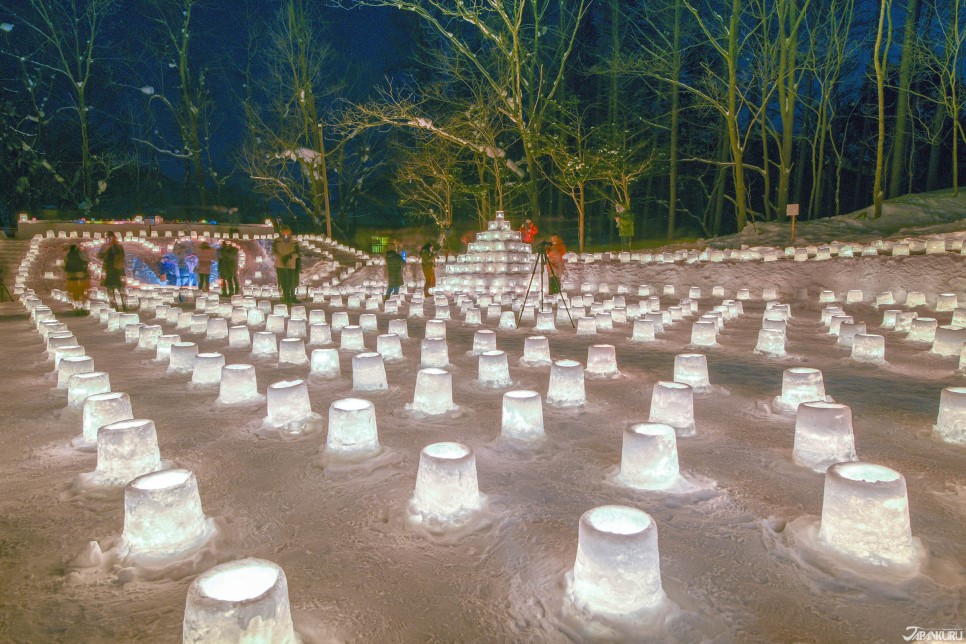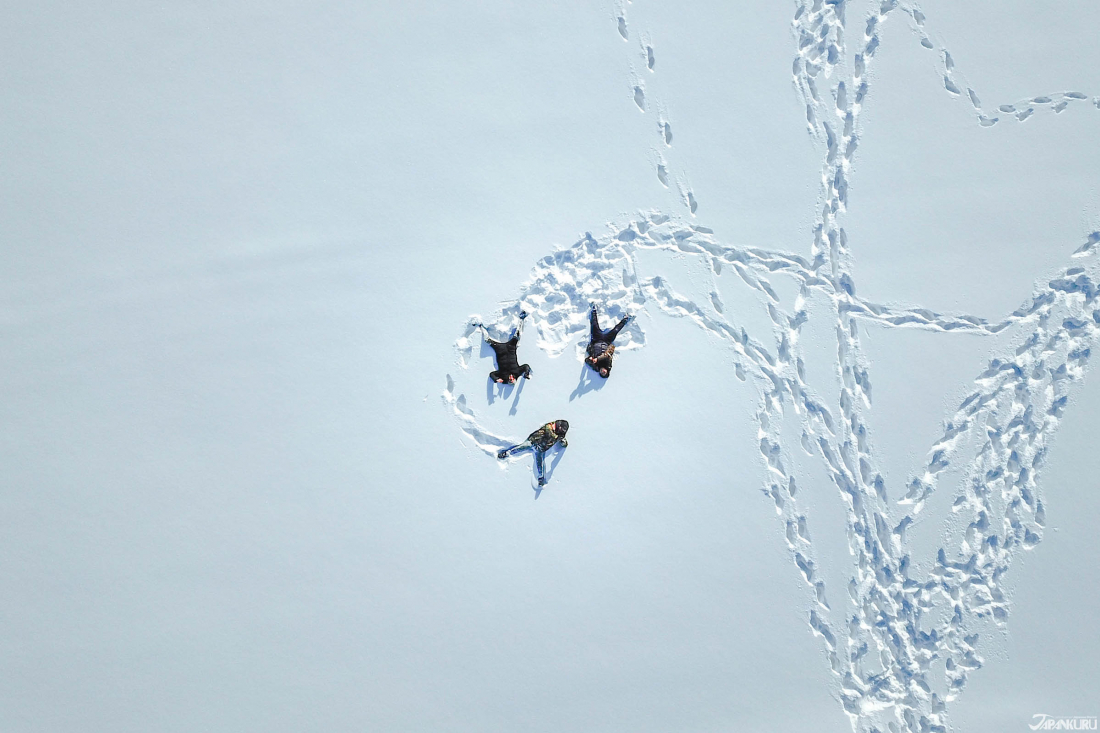 Enjoying Traveling around Hokkaido

Regardless of the season, Hokkaido is truly a beautiful place to visit.
Yeah, winters are cold, but summers are cool and brisk.
It is probably the best place to experience unspoiled wilderness and nature along with enjoying all the yummy food like corn, ice cream, cantaloupe, miso ramen, and of course fresh seafood (especially sea urchin and crab).
Once you visit, you will definitely fall in love with Hokkaido just like we did.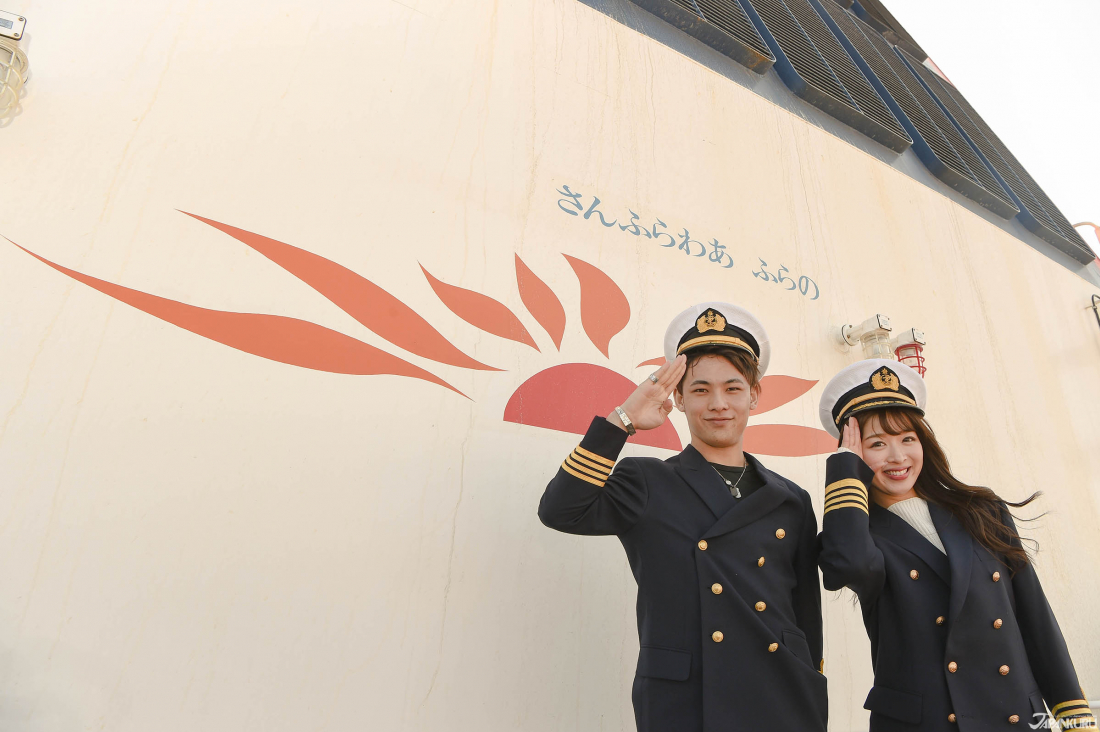 The Joys of Taking a Ferry to Hokkaido
🌞Evening Ferry🚢
・Oarai ➡ Tomakomai: Depart at 7:45pm, arrive at 1:30pm (next day)
・Tomakomai ➡ Oarai: Depart at 6:45pm, arrive at 2:00pm (next day)
🌙Midnight Ferry🚢
・Oarai ➡ Tomakomai: Depart at 1:45am, arrive at 7:45pm
・Tomakomai ➡ Oarai: Depart at 1:30am, arrive at 7:30pm
🚢
Ferry Sunflower (フェリーさんふらわあ)
Passenger Terminal: Oarai Port Ferry Terminal
🏢Chuo 2, Oaraimachi Port, Higashiibaraki-gun, Ibaraki
Google Maps
Passenger Terminal: Tomakomai West Port Ferry Terminal​
🏢1-2-34 Irifunecho, Tomakomai, Hokkaido
Google Maps
Related Article