Traveling Through Aizu ② Traditional Culture & Local Cooking Classes in Shimogo
Shimogo's traditional village of Ouchijuku is famous for thatched roofs and some unique foods, so why not learn to cook like a local?
Traditional Villages and Traditional Cooking in Shimogo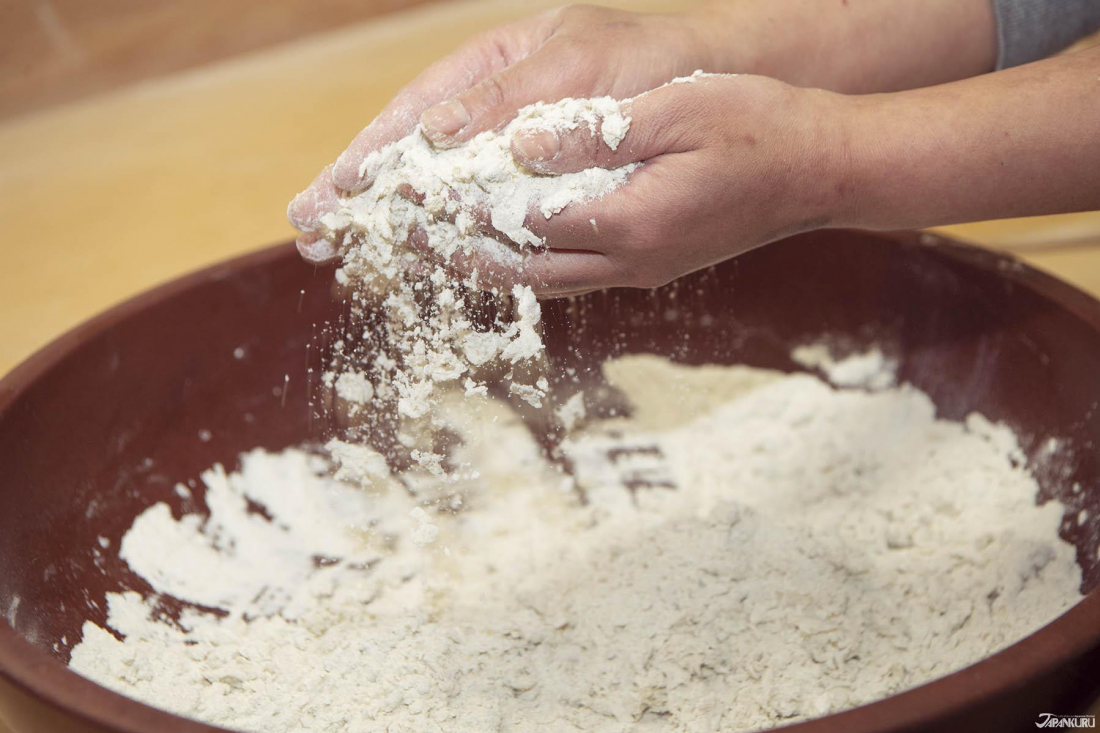 In Japan, the Aizu area of Fukushima is known for its history of samurai and feudal traditions of the Edo era, preserved through
castles
and villages still standing to this day, but also for its verdant summer fields and abundant agricultural successes. It's no surprise that the area is known for flavorful food and excellent
sake brewing
. So the Japankuru team recently returned to the Aizu region for a trip through three areasーAizuwakamatsu, Shimogo, and Minamiaizuーto soak up the culture, learn more about local cuisine, and even learn how to bring some of the flavors of Aizu home with us!
Ouchijuku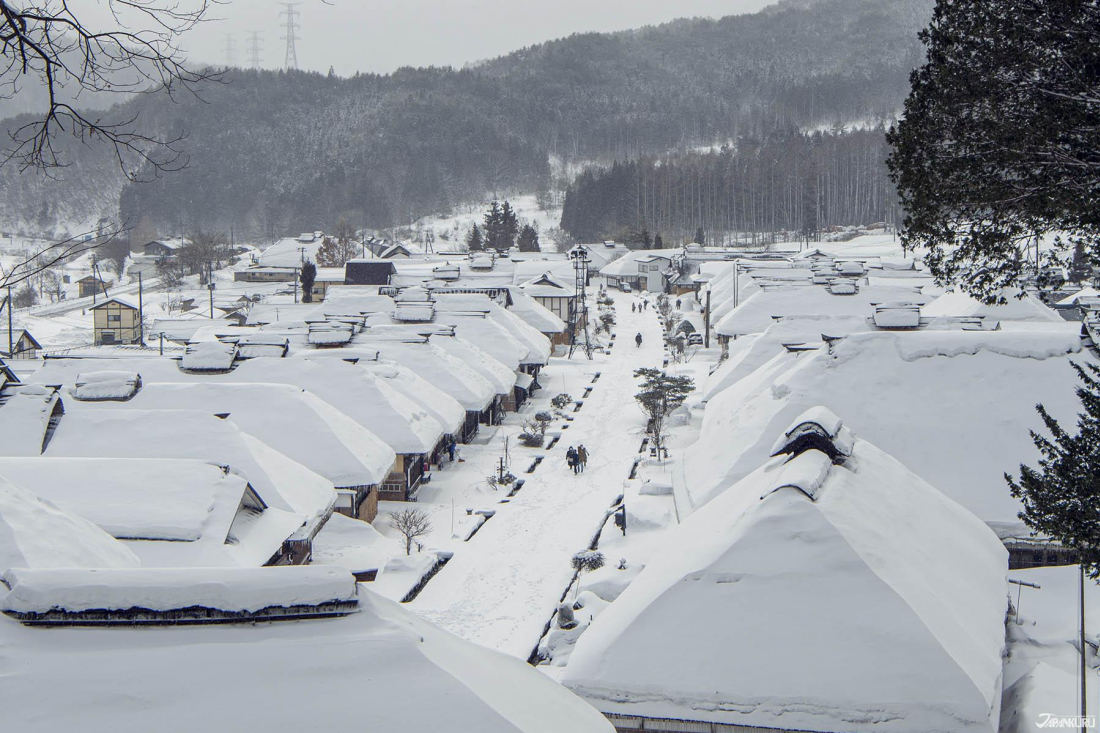 Back in Japan's Edo period (1603-1868), the village of Ouchijuku was a stop along the Aizu Nishi Kaido, one road in a
network of old-fashioned highways
connecting the shogun to the rest of Japan. Travelers passed through as they traveled from Aizu to other parts of the nation, staying the night and bringing prosperity to the thriving little community. To this day, many of the buildings built in the Edo era are still in use, preserved for over 300 years and still complete with traditional thatched roofs.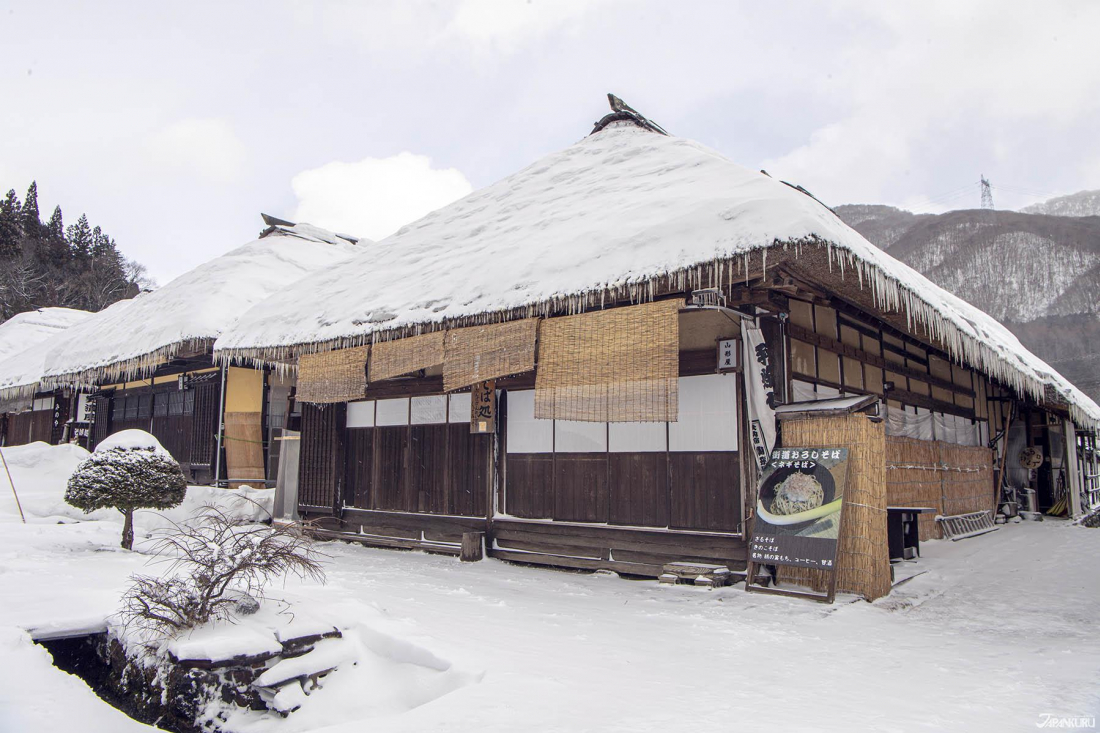 Throughout the seasons, travelers come to admire the traditional buildings and the atmosphere that still feels like another place in time, where a samurai or a kimono-clad family might step out around a corner at any moment. It's no museum, though! The buildings still contain homes, accommodations, and businesses, including quite a few restaurants specializing in soba noodles.
Ouchijuku (大内宿)
Ouchi, Shimogo, Minamiaizu District, Fukushima
Official Website (jp)
Local Shimogo Cuisine Cooking Classes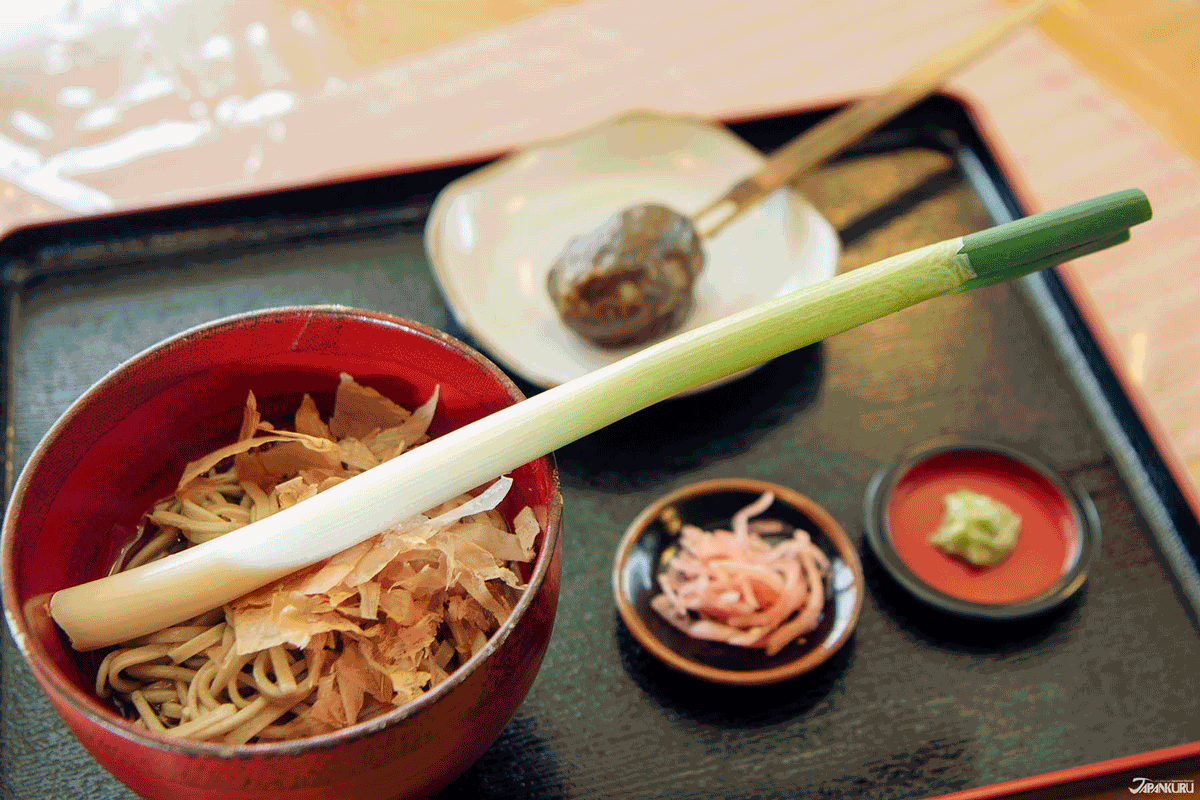 Thanks to vast fields of buckwheat that flourish throughout the southern part of the Aizu region, soba noodles (蕎麦, literally buckwheat) are a part of the local food culture in Aizu. And in Shimogo, the town that Ouchijuku is now a part of in present-day Fukushima, the soba is extra special. Here, they eat "negi-soba" (ネギ蕎麦), which is a dish of soba noodles picked up and eaten with one long green onion, in place of chopsticks. This unusual method requires a little bit of skill and a lot of commitment, but the green onion adds extra flavor, and you can even chomp down on it along with the noodles (although you aren't required to eat the whole thing)!

One of the best parts of the negi-soba, though, is that you can make it yourself in Ouchijuku!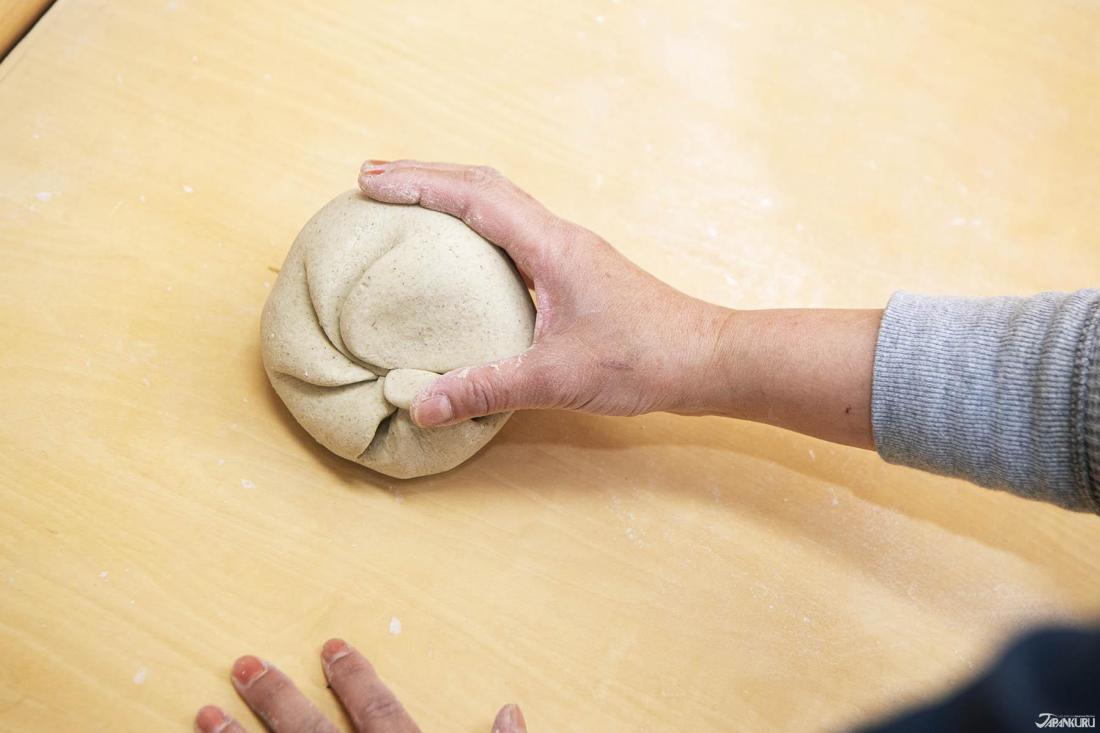 In Shimogo, travelers can take cooking classes at the Ouchijuku Shoku-no-Yakata, taught by local chefsーthe kind of people who you can tell with one look are passing down generations of local cooking knowledge and expertise! These expert chefs help you cook up an authentic meal in the middle of Shimogo, starting from scratch with a bowl of buckwheat flour, and slowly kneading it into a smooth dough ready to be rolled out.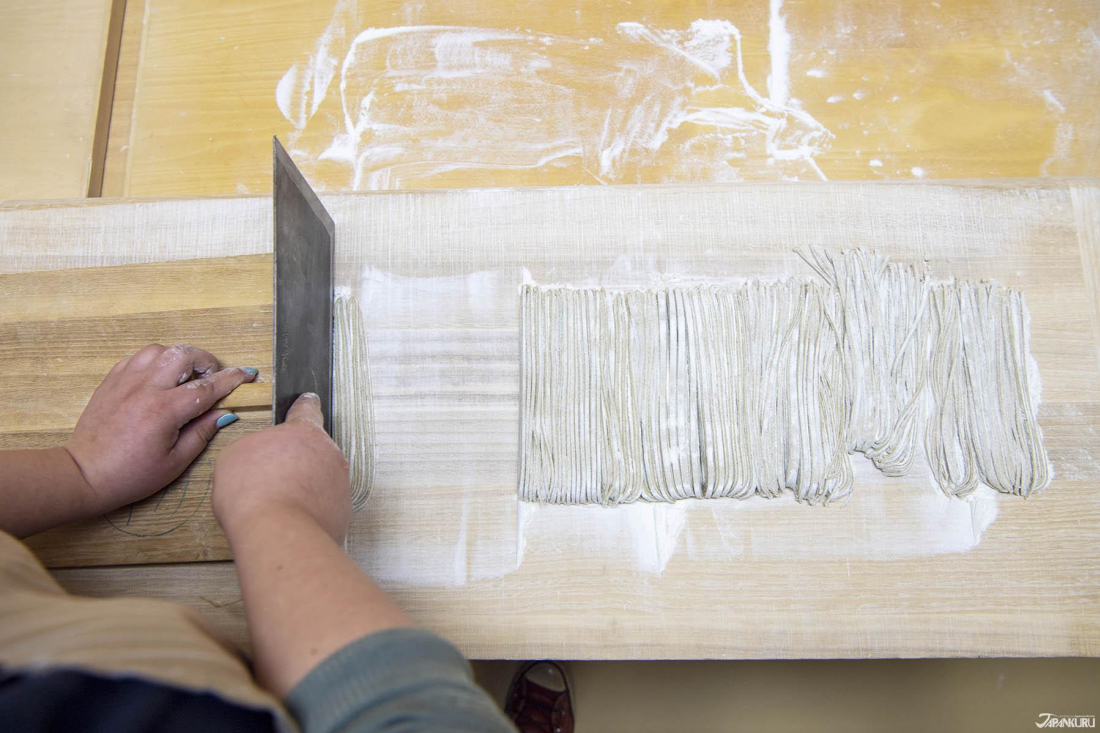 You can even customize the dish to your liking! Soba noodles vary in width from place to place, and when you're cutting the noodles yourself, you get to decide on the perfect size! After the noodles are all prepared, they're taken to the stove to be boiled up and added to a savory broth, for an authentic Ouchijuku dish you made yourself! And the bowl is served with one big old green onion, of course.
But soba noodles aren't the only local recipe you can learn to make in Shimogo...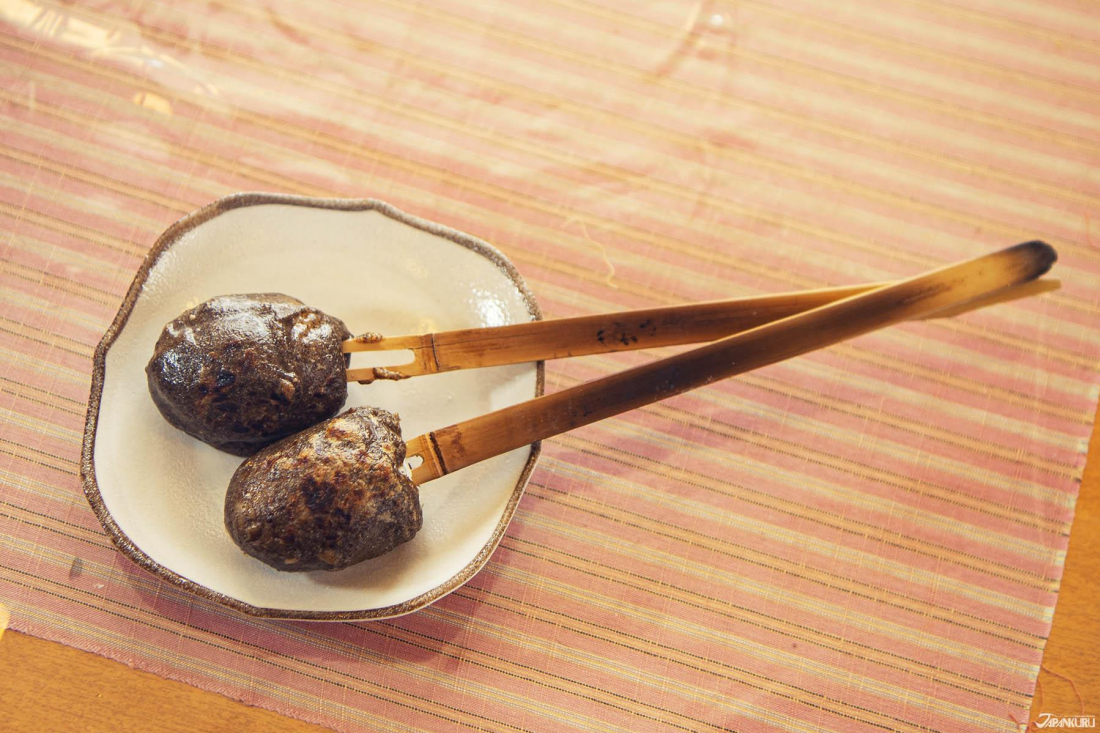 Shingoro (しんごろう) are even more of a local Shimogo specialtyーyou probably won't find this particular dish anywhere else, although you might find foods with some resemblance, like
gohei-mochi
in Aichi. Legend says that shingoro were originally created by a poor local farmer with a pure heart, who couldn't afford to pay for an offering to the gods, and cooked up a new recipe to offer instead. With centers made of white rice and fragrant outer shells of wild sesame miso, all roasted over hot coals, shingoro are a unique taste experience, for the gods of Japan and common folk alike. And you can make them yourself along with your negi-soba!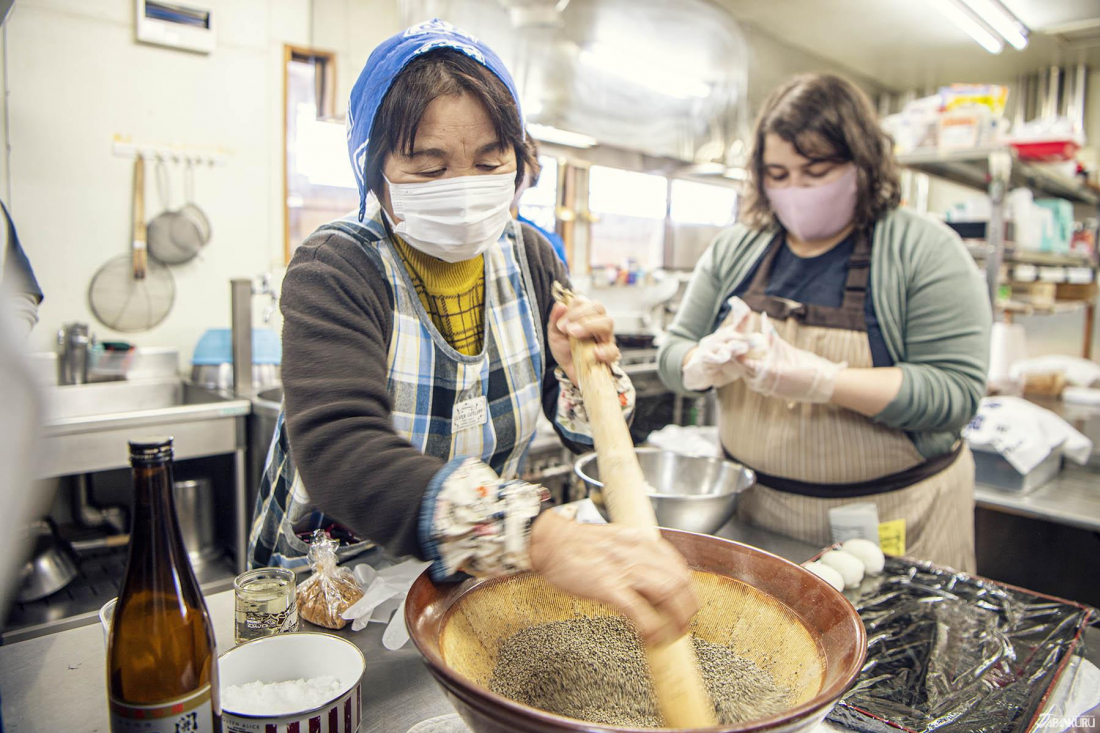 The recipe for shingoro is actually a bit more challenging than soba noodles, but that just gives you ample time to learn from the chefs and hear all about the local culture! After you make rice balls out of slightly mushed rice, the most important step in making shingoro is whipping up the wild sesame miso, and that takes a bit of time and effort. Wild sesame is a native plant generally called egoma (エゴマ) in Japan, but in Shimogo they call it junen (じゅうねん), which literally means "ten years." They say that eating just one little grain of this precious ingredient will add ten years to your life, so imagine how our lifespans must have grown after we ground up thousands of little wild sesame seeds in a huge mortar and pestle!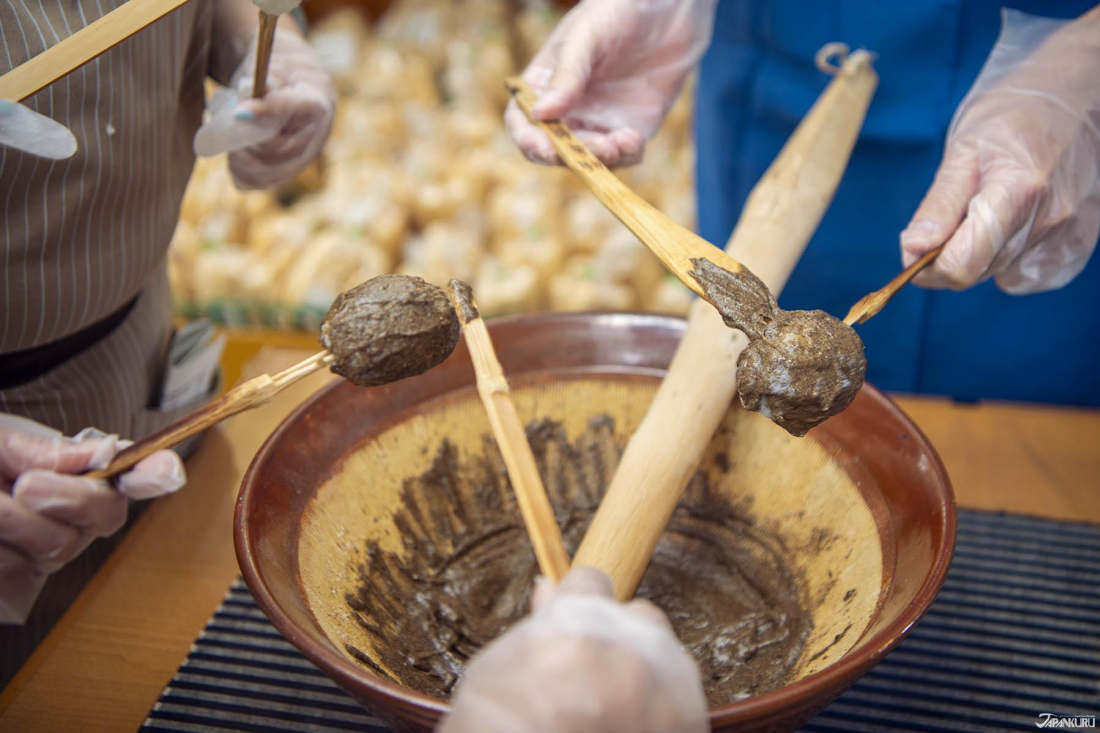 After you and everyone participating has taken turns grinding the wild sesame as much as your arms can bear, it's finally time to add umami-rich miso, a bit of sugar, and a dash of local Aizu sake to turn it into a sauce, painted thickly onto the rice balls.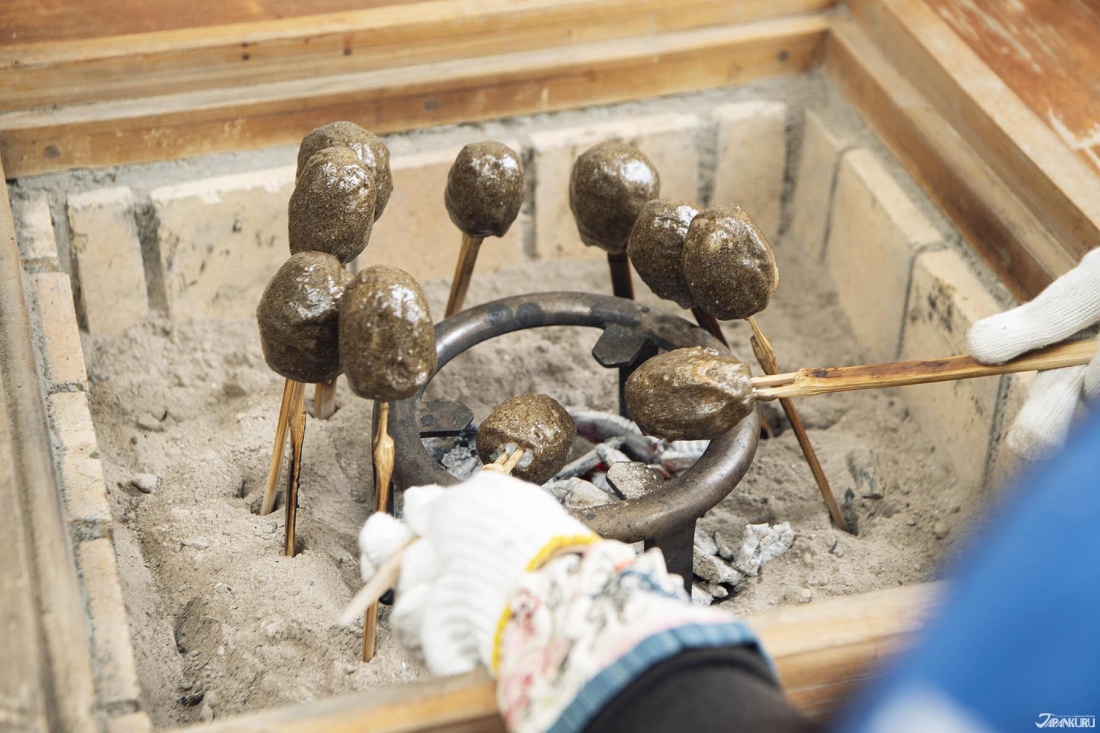 Participants wedge the skewered shingoro into the ashes to roast above hot coals in a traditional Japanese hearth, until the wild sesame miso starts to brown and toast up, and they're finally ready to eat. The end result is like nothing else, with a smooth layer of unbelievably rich, sweet and savory paste giving way to a dense, textured center of simple white rice. If you want a taste of Shimogo, this is it!
Shimogo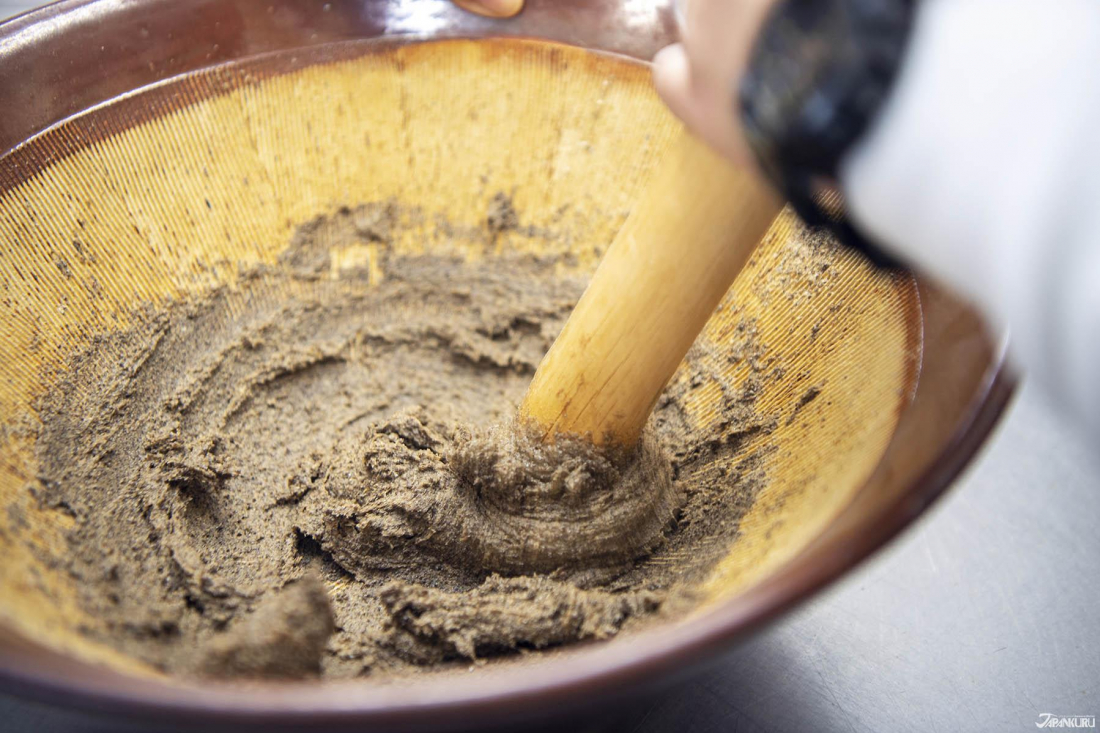 For a taste of small-town life in Japan, Shimogo offers a look at how traditions have held on throughout the area's history, and a chance to experience the local food culture for yourself! Don't miss out on the mellow flavors of handmade soba noodles, the delicious burn of that big green onion, or the rich depth of flavor in "junen" miso. To read more on Japankuru's trip through Aizu, check out our visit to
Aizuwakamatsu
, and keep an eye out for our stories from Minamiaizu, coming next!
For more info and updates from Japan, check Japankuru for new articles, and don't forget to follow us on
twitter
,
instagram
, and
facebook
!
▶︎ Interested in making a reservation for one of these experiences? Look for them coming soon on
Beauty of Japan
.
Related Article